Week of July 24, 2022
07/23/2022 08:59:44 AM
Jul23
| | |
| --- | --- |
| Author | |
| Date Added | |
| Automatically create summary | |
| Summary | |

Chai Lights - at the JCV
The JCV is committed to bringing people together; we are here to keep you informed and connected through a wide variety of programs. Browse our website to stay up to date on upcoming programs and services.
Our top priority is the health and well-being of the JCV community; new policies are now in effect for the use of the JCV building. Zoom and in-person Shabbat Services continue to be held at the JCV. To see last week (July 17), click HERE.
MASKS ARE NOW MANDATORY INSIDE THE JCV; see more information under In Case You Missed It.
(continue scrolling or click on link for details on items listed here)
JCV Community Announcements
Upcoming Services, Events, Programs, and Classes
Worship/Shabbat
Events, Programs, and Classes
Looking Ahead
In Case You Missed it
Donate/Support the JCV
About Us
JCV News Sponsors
A Message from Rabbi Shull
I am pleased to inform you that Ed Lavallee, Venice City Manager, issued an excellent statement last week before the Venice City Council condemning the recent rash of antisemitic incidents in our community; assuring the community that the police and city government are doing everything possible to keep our community safe. Mr. Lavallee was kind enough to meet with me prior to the city council meeting; along with the Venice Police Chief, Charlie Thorpe, to discuss the importance of a clear and forceful community response to antisemitism rearing its ugly head in Venice. He assured me that he would issue a response and I am grateful that he followed through with the statement below.
I also have been in touch with Mayor Ron Feinsod after I was informed that he received an antisemitic email. We have discussed the nature and substance of his response and I expressed to him the support of our congregation for his leadership and his publicly expressed pride in his Jewish heritage. Know that the leadership of the JCV is working with all responsible parties to combat hatred towards Jews and others in our community. We, of course, all need to work together to build a better Venice for all of its residents and guests.
B'shalom,
Rabbi Ben Shull

CITY COUNCIL MEETING – JULY 12, 2022
Statement Concerning Anti-Semitic Flyers
On June 25, 2022, anti-Semitic flyers were distributed to lawns and driveways of residential properties in Venice. More recently, our Mayor received an e-mail in the form of anti-Semitic hate mail. Other communities in our region have been the recipients of similar anti-Semitic literature.

The contents of the flyers are offensive and violate our sense of common decency and moral behavior. These indecent acts have created concern and outrage among our citizenry- and rightfully so. Our Country was founded on principles protecting individual rights, including freedom of religion. The founding fathers embraced this liberty and suitably incorporated it into the first Amendment to the U.S. Constitution.

Our Police Department responded immediately to first discovery of the anti-Semitic flyers in Venice and has been investigating these hateful acts; and will continue in their vigilance to protect the safety and welfare of our citizens. We are working strategically in coordination with other law enforcement agencies to investigate the hateful propaganda to assess any perceived threats or risks of safety to our community.

We have great respect for and confidence in the efforts of our police force and the sister law enforcement agencies working with us. Their work is ongoing and we applaud their diligence in pursuing any risks to public safety, and to upholding our public trust.

In Venice, our moral compass guides us to protect the rights, freedoms, and protections articulated in our state and federal constitutions. Collectively, with law enforcement, faith community, civic leaders, and our citizens, we condemn acts of indecency, discrimination or immorality; and we will continue to stand for principles of equal protection for all citizens, equality, freedom, and justice.
Ed Lavallee,
City Manager
This week's calendar at the JCV: www.jewishcongregationvenice.com/calendar
"Good Scents" - Be considerate of others who may be allergic and refrain from using scented products when coming to services.
Consult the JCV calendar at www.jewishcongregationvenice.com/calendar to confirm the schedule of Shabbat Services at the JCV. If any changes to our regularly scheduled services are warranted, we will let you know as soon as possible. We look forward to spending Shabbat together virtually and/or in person.
Friday
7:30pm: Shabbat Services*
*Shabbat Services will start at 5:30pm on the second Friday of each month.
In person, consult the JCV calendar
Zoom: https://us02web.zoom.us/j/86717410874, (867 1741 0874, Passcode: jcv).
Monthly schedule for Friday Shabbat Services:
1st Friday: Choir and musical accompanist.
2nd Friday: *Birthdays will be celebrated. Shabbat Services will start at 5:30pm.
3rd Friday: *Anniversaries will be celebrated. Musical accompanist.
4th Friday: Haftorah and Torah reading.
*Update your member profile (birthday and/or anniversary) in ShulCloud, since this is where we get our information.
Visit the JCV calendar at www.jewishcongregationvenice.com/calendar for all of our high quality, innovative, and uplifting programming! Scroll down to see all JCV posters.
Monday and Thursday - recurring classes
10:30am: Indoor T'ai Chi at the JCV
Duration: 1 hour. Recurring classes on Mondays and Thursdays. If you have any questions or concerns, contact Barry V. B. Consult the JCV calendar.
Tuesday (last Tuesday of the month)
10:00am: Cantor Marci's Kol Isha - women's discussion group
For more information or questions, contact Marci Vitkus at cantor@thejcv.org. Consult the JCV calendar.
Questions for July 26: What's your favorite thing in your house? What do you like most about where we live?
Wednesday
4:30pm: Basic Judaism with Rabbi Shull
Weekly. Contact Rabbi Shull at rabbi@thejcv.org for details. Consult the JCV calendar.
Thursday
2:00pm: Torah Study with Rabbi Shull
Weekly. Contact Rabbi Shull at rabbi@thejcv.org for details. Consult the JCV calendar.
Monthly - Monday
10:30am: Sisterhood Book Club
The JCV Sisterhood Book Club meets once a month on Monday. 10:30am to noon. In person at the JCV. When the weather is nice, we meet outdoors. Often, we go out for lunch afterwards, or bring a picnic lunch. All women are welcome to attend, including friends or guests. If you have any questions, email Judy H. or Vicki K. Consult the JCV calendar.
Monthly - Third Wednesday of the month
7:00pm: Men's Club Meeting
JCV Social Hall – optional card game follows. There is no meeting scheduled for November 2022. For more information or questions, contact Rich R. Consult the JCV calendar.
Sunday, August 7
10:00am: Tisha B'Av (9th day of the Hebrew month of Av) Service and Study
Consult the JCV calendar.

Monday, August 8
1:00pm: Men's Club - Movie Matinee and Gathering
For more information or questions, contact Rich R. Consult the JCV calendar.

Ongoing - Monday through Friday
8:30am-1:00pm: Bring Bling for the JCV Flea Market
Consult the JCV calendar.

Thursday, December 8
Friday, December 9
Time - TBA: JCV Flea Market
Consult the JCV calendar.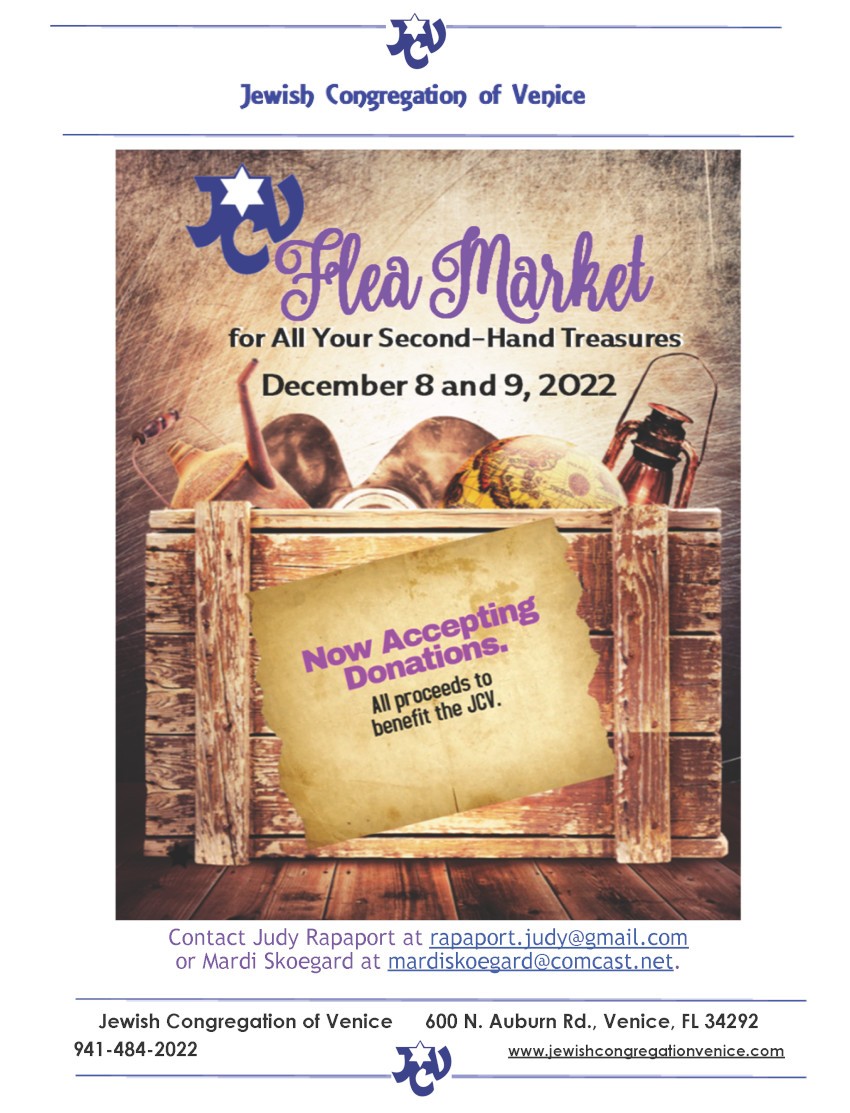 Your Support is Relied on!
Join us in making the JCV thrive, and know that we are grateful for all donations. You may use our online donation form or call our office at 941-484-2022 and we will be happy to assist you. We appreciate gifts and donations to support our congregation's mission.
Support the JCV When You Shop on Amazon!
For every purchase made through our Amazon Smile link, Amazon will donate to the Jewish Congregation of Venice. This is at no additional charge to you. Remember, always start at smile.amazon.com and Amazon will donate 0.5% of the price of your eligible AmazonSmile purchases to the JCV.
Sunshine Fund
For only $5.00, support the JCV and save yourself a trip to the card shop! We have get well, condolence, simchas, and congratulation cards. For more information or questions, contact Vicki S. Then all you have to do is send a check to the JCV or use our online donation form; check Donations>Sunshine in the "Type" drop down box.
Are You Interested in Advertising Your Business in JCV News?
Advertising in JCV News is a great way to promote your business while supporting the Jewish Congregation of Venice. JCV News is published weekly. It is circulated to JCV members as well as being posted on our JCV website. If you would like further information on this reasonable advertising opportunity, contact WaysandMeans@thejcv.org.
JCV Office Hours
Monday through Friday
8:30am to 1:00pm
Rabbi's Day Off and Office Hours
Sunday: The rabbi will be available to congregants.
Monday: 9:30am to 3:30pm
Tuesday: Off
Wednesday: 9:30am to 3:30pm
Thursday: 9:30am to 12:30pm
Friday: Available by phone 941-441-5713
Saturday: Shabbat, the rabbi will be available in an emergency.
If you would like to meet him in person at the JCV any other time Sunday through Friday, that can also be arranged by calling to make an appointment. Rabbi Shull can be reached at 941-441-5713. We continue to recommend that anyone entering the JCV building be fully vaccinated.

Leadership
Board of Directors
President: president@thejcv.org
1st Vice President: 1stvp@thejcv.org
2nd Vice President:
Secretary: secretary@thejcv.org
Treasurer: treasurer@thejcv.org
Immediate Past President:
Parliamentarian:
Member at Large:
Member at Large:
Adult Learning: open
Building and Grounds: BuildingandGrounds@thejcv.org
Membership: membership@thejcv.org
Ritual: Ritual@thejcv.org
Ways and Means: WaysandMeans@thejcv.org
Sisterhood: Sisterhood@thejcv.org

COVID Policy
During a recent Board Of Directors meeting, there was a discussion about COVID-19 and its variants' positivity rate. The Board follows the Center for Disease Control (CDC) guidelines, which endorse the use of masks in indoor settings when the positivity rates are high. Therefore, due to the high positivity rate in Sarasota County, effective immediately, everyone attending a function indoors at the JCV is expected to properly wear a mask, covering one's nose and mouth. When actively eating or drinking, such as during an Oneg or other special event, you may remove your mask. However, it is expected when you finish, you will once again put on your mask.
While we realize that masking and other protective measures are cumbersome, we feel this is in the best interest for the health and well-being of those attending functions within the JCV.
As a Board, we will continue to monitor the COVID-19 situation and act accordingly. You may wish to visit the CDC website at cdc.gov for further information and guidelines associated with COVID-19.


Preparation of JCV News
Reasonable effort has been taken to ensure that current, correct, and clearly expressed information is presented each week. Data and information included in JCV News is compiled from a variety of sources, and is subject to change without notice to the reader, at which time inadvertent errors (accuracy, informational, and typographical) may occur. JCV News provides information "as is" and suggests the user confirm event details prior to attendance. All times shown are in the Eastern Time Zone. References and links to third party sites are for informational purposes only and do not constitute endorsement of them by JCV News.
Submitting Articles to JCV News and Deadlines
Criteria for publication: JCV News welcomes JCV and member-related news for publication. Only articles or Zoom meeting information will be considered for publication. Articles that will not be considered: commercial, political, or solely promotional in nature; submitted to, accepted by, or published by another medium, printed or online; copyrighted materials without permission.

Submitting articles: Material submitted for publication should be presented as articles or Zoom meeting information in the text of the main body of your email. Graphics, posters, or pictures must be a separate .png file attachment. Avoid including attachments unless essential. Do not submit an event or article if it has not been confirmed by all parties involved.

Deadline for submissions: 5:00pm on the Wednesday prior to the Sunday of publication. All requests for publication should be sent to JCVNews@thejcv.org. This email address is to be used for submission of articles for consideration of publication only. Final versions of submissions are the only emails that will be accepted.
Support the sponsors who support the JCV!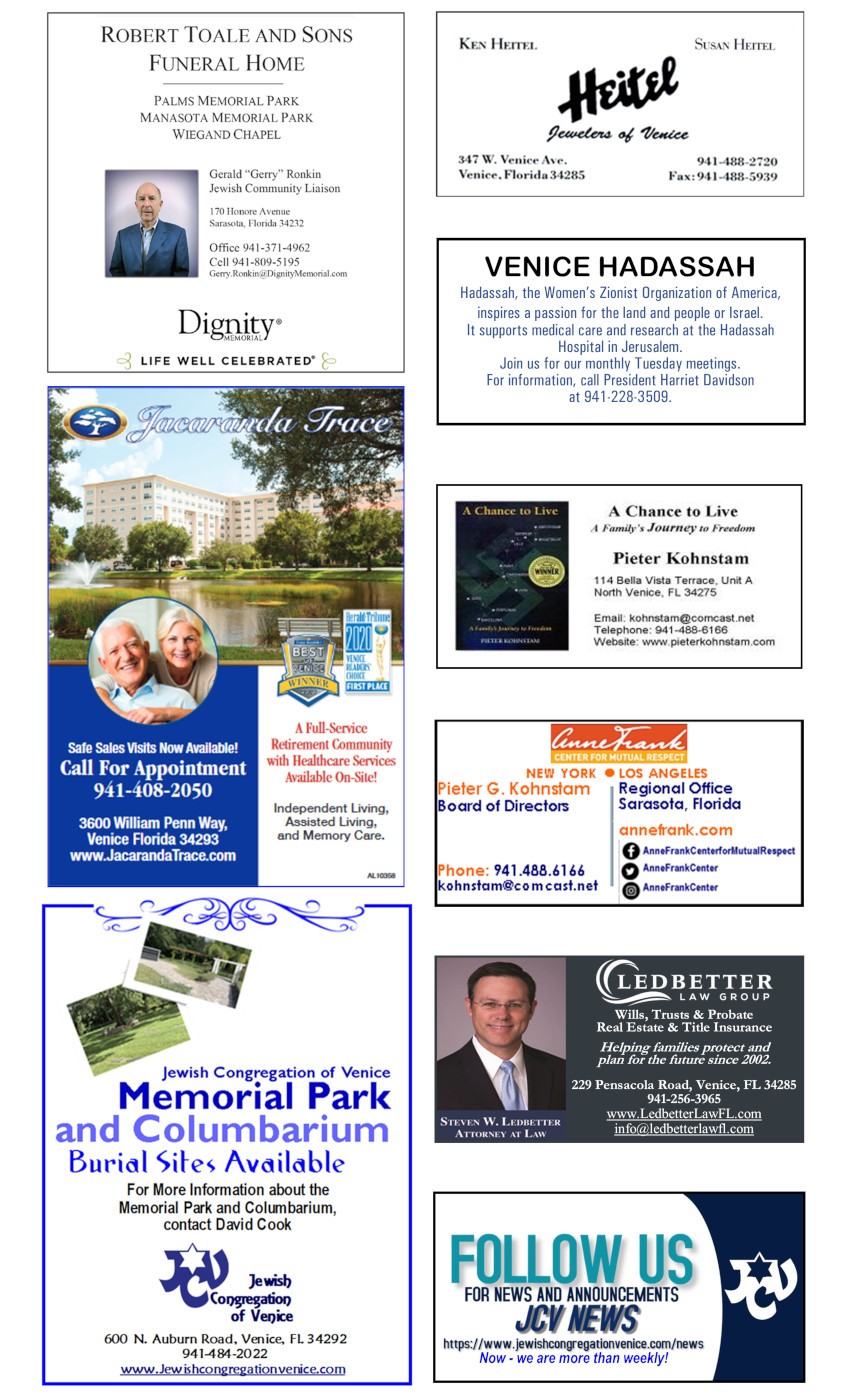 Fri, December 2 2022 8 Kislev 5783