Week of May 29, 2022
05/28/2022 08:36:40 AM
May28
| | |
| --- | --- |
| Author | |
| Date Added | |
| Automatically create summary | |
| Summary | |
Chai Lights - at the JCV
The JCV is committed to bringing people together; we are here to keep you informed and connected through a wide variety of programs. Browse our website to stay up to date on upcoming programs and services. Our top priority is the health and well-being of the JCV community; new policies are now in effect for the use of the JCV building. Zoom and in-person Shabbat services continue to be held at the JCV.
Every effort has been made to ensure the accuracy of event data contained in this issue; however, all events are subject to change. All times shown are in the Eastern Time Zone. To see last week (May 22), click HERE.
(continue scrolling or click on link for details on items listed here)

Shabbat Worship
Events, Programs, and Classes
Looking Ahead
Beyond the JCV
JCV Community Announcements
In Case You Missed It
Support the Jewish Congregation of Venice
Administrative
JCV News Sponsors
Upcoming Services, Events, Programs, and Classes at the JCV
Every effort has been made to ensure the accuracy and reliability of event data contained in this issue, however all events are subject to change. Confirm event details prior to attendance. References and links to third party sites are for informational purposes only and do not constitute endorsement of them by JCV News.
Back to top

If any changes to our regularly scheduled services are warranted, we will let you know as soon as possible. We look forward to spending Shabbat together virtually and/or in person.
"Good Scents" - Be considerate of others who may be allergic and refrain from using scented products when coming to services.

Friday
7:30pm: Shabbat Services*
*Going forward, Shabbat Services will start at 5:30pm on the second Friday of each month.
In person and on Zoom.
Weekly: June 3, 10*, 17, 24; July 1, 8*, 15, 22, 29
Zoom: https://us02web.zoom.us/j/86717410874, (867 1741 0874, Passcode: jcv).
The rabbi, cantor, and ritual committee wish to make you aware of the monthly schedule for Friday Shabbat Services.
1st Friday:
Choir and musical accompanist.
2nd Friday:
*Birthdays will be celebrated. Going forward, Shabbat Services will start at 5:30pm on the second Friday of each month.
3rd Friday:
*Anniversaries will be celebrated. Musical accompanist.
4th Friday:
Haftorah and Torah reading.
*Update your member profile (birthday and/or anniversary) in ShulCloud, since this is where we get our information.
Allocating Aliyot
On a trial basis, the Ritual Committee has adopted a new method of assigning honors for Shabbat Services.
Rather than a Ritual Committee member calling or emailing congregants and perhaps disrupting you, we will leave it up to JCV members to step forward to request an honor. Currently, the honors will consist of candle lighting and three Torah Aliyots. If this system works well, we can expand honors to include other English prayers and readings.

So, if you are celebrating an event or have a yahrzeit and want an honor, this is the procedure:
Contact Susan Litwer, and the appropriate arrangements will be made.
Any honor or reading that has not been subscribed to will be available on a first-come, first-served basis the night of the Shabbat Service. A Ritual Committee member will be present at the Membership table to hand out honors or readings and keep the appropriate records. You will be given a card that night providing any details.
In preparation of JCV News; reasonable effort has been taken to ensure that current, correct, and clearly expressed information is presented each week. Data and information included in JCV News is compiled from a variety of sources, and is subject to change without notice to the reader, at which time inadvertent errors (accuracy, informational, and typographical) may occur. JCV News provides information "as is" and suggests the user confirm event details prior to attendance.
Monday and Thursday - recurring classes
10:30am: Indoor T'ai Chi at the JCV
Duration: 1 hour. Recurring classes on Mondays and Thursdays. If you have any questions or concerns, contact Barry Bye.
Tuesday (last Tuesday of the month)
10:00am: Cantor Marci's Kol Isha - women's discussion group
For more information or questions, contact Marci Vitkus at cantor@thejcv.org.
Questions we will discuss this week:
What irrational fears did you have as a child?
What were the healthiest and unhealthiest periods of your life?
Wednesday
4:30pm: Basic Judaism with Rabbi Shull
Weekly. Contact Rabbi Shull at rabbi@thejcv.org for details.
Thursday
2:00pm: Torah Study with Rabbi Shull
Weekly. Contact Rabbi Shull at rabbi@thejcv.org for details.
Monthly - Monday
10:30am: Sisterhood Book Club
In person at the JCV. The JCV Sisterhood Book Club meets once a month on Monday.
10:30am to noon. When the weather is nice, we meet outdoors. Often, we go out for lunch afterwards, or bring a picnic lunch. All women are welcome to attend, including friends or guests. If you have any questions, email Judy Haran or Vicki Kaufman.

Here is the book schedule for most of the year:
June 6 - Moonglow by Michael Chabon
July 4 or 11 - No meeting (open for discussion)
August 8 - No meeting (open for discussion)
September 5 or 12 - The Things We Cannot Say by Kelly Rimmer
October 3 - The Orphan Master's Son by Adam Johnson
November 7 - The Last Kings of Shanghai by Jonathan Kaufman
December 5 - Book to be announced
Sunday, May 29
Noon: Men's Club Picnic
Rain or shine. For more information or questions, contact Steve Weiss.
Wednesday, June 1
1:30pm: Know the JCV Website - Zoom session
Duration 1 to 1.5 hours. Zoom: RSVP to membership@thejcv.org, Zoom information will be sent to you when you register. See poster below.
Tuesday, June 2
10:30am: Know the JCV Website - Live at the JCV
Duration 1 to 1.5 hours. Limited to 15 people. RSVP to membership@thejcv.org. See poster below.
Sunday, June 5
10:00am: Shavuot 5782 at the JCV
For more information or questions, contact Susan Litwer.

Friday, June 10
5:30pm: Shabbat Dinner - Chinese Buffet
Following Shabbat Services. For more information or questions, contact Mardi Skoegard.

Saturday, June 18
7:00pm: Men's Club Card Game
JCV Social Hall. For more information or questions, contact Steve Weiss.

Sunday, June 26
1:40pm: Men's Club Rays Baseball Game at Tropicana Field.
Payment due by June 15. See poster. For more information or questions, contact Steve Weiss.


Monday, June 27
10:00am: Learn to Make Rugelach
JCV Kitchen. For more information or questions, contact Judy Rapaport at waysandmeans@thejcv.org.

Wednesday, June 29
10:00am: Security Training
In person at the JCV or on Zoom: https://us02web.zoom.us/j/82125916827 (821 2591 6827, Passcode: jcv). JCV Members are encouraged to attend.

Monday, July 4
Noon: Fourth of July BBQ
RSVP by June 27, 2022. For more information or questions, contact Judy Rapaport.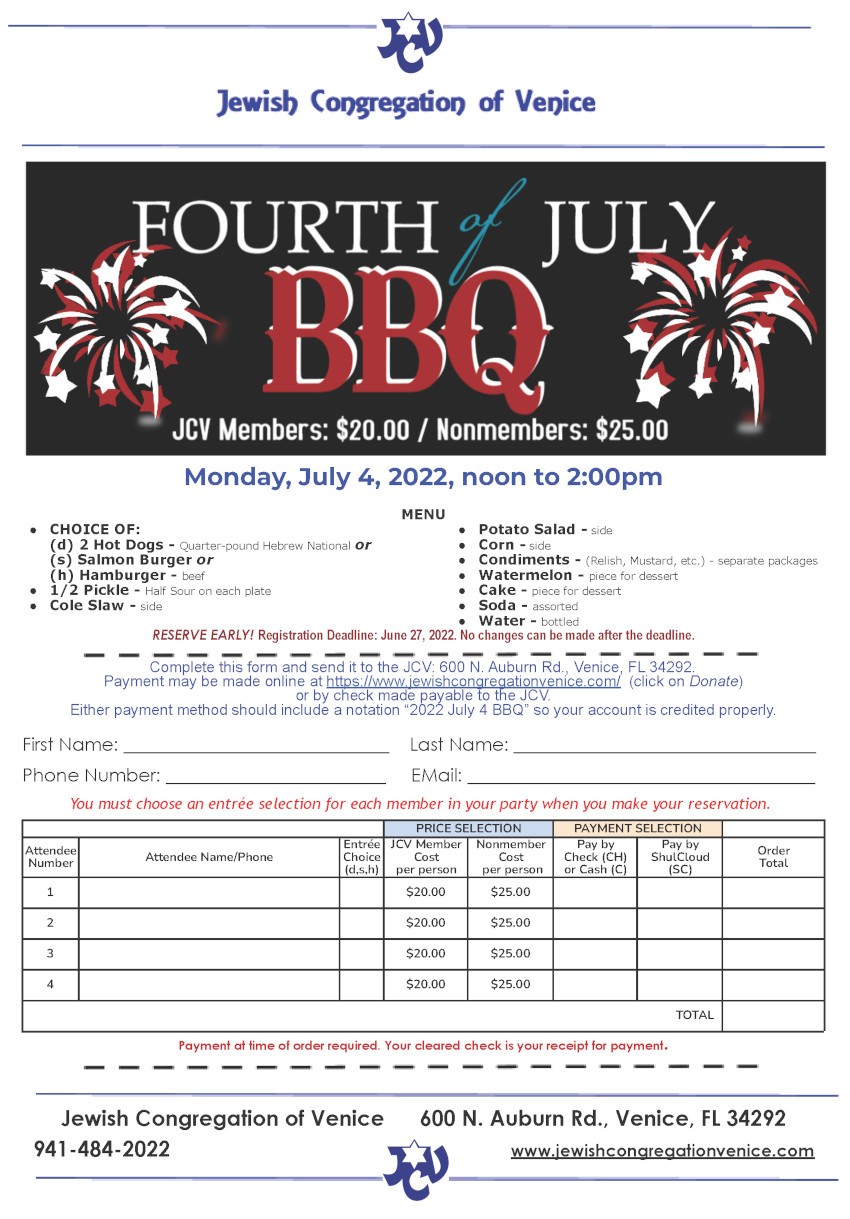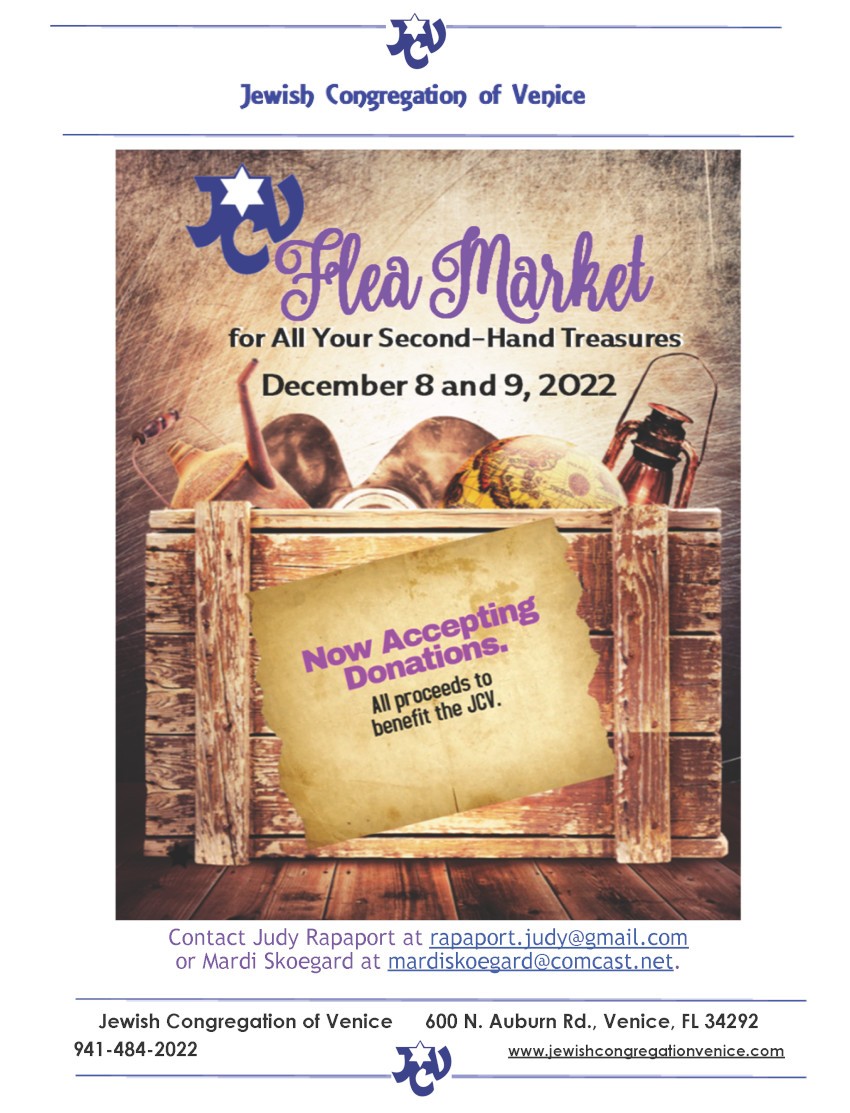 A Message from Eli Rapaport, JCV President
May 2022

Dear Fellow Congregants,
As I embark on my term as the President of the JCV, one of my early agenda items is to have a more formal mission, vision, and value statement. These statements, once developed and fully vetted through the congregation, will serve as a road map for future endeavors by the JCV Board of Directors.

I have asked Steve Kleinglass, our first vice president, to chair this Planning Committee and over the next few weeks this important work will commence. This is an involved assignment and will take some time due to the diligence needed to complete the task; however, I expect this will be finalized by the end of this calendar year. In the event you have expertise in this regard and would like to serve on this committee, kindly contact Steve at 941-451-4022 or SPK25@me.com by June 5th.

Over the next several months the committee will hold several opportunities for congregational input. Your input and comments about these statements are important and what our congregants say, matters. The first listening session will be in July (announcement about date and time will be forthcoming) and sessions will be both in person at the JCV and via Zoom. During these sessions we will ask for your comments regarding what is important as the JVC looks to the future. There will be no need for any preparation, but rather please plan on attending with your thoughts in order to pose questions that you believe are important issues for the JCV during the next five years.

This is an exciting period for all of us and we believe the future of the JCV is bright. It is an awesome time to be part of the JCV Community.
All the very best,
Eli

Tip of the Week:
Using the JCV website
You are now able to register and pay for events through the JCV calendar.
If you see an event (such as the Shabbat dinner) on JCV News:
Go to the calendar. Find the date of the event.
Click on the event and a poster will pop up. Now, you have 2 options:
To pay and register online: Scroll down to: "Register" - Complete the number of members or nonmembers attending, then click on "Continue." Complete your payment information.
To pay by cash or check: Print the poster, registration form, and send in a check or drop it off with your completed registration form to the JCV. Be sure your information will be received no later than the last day to register.

You will begin to see more and more events that use the registration option. Keep in mind, you cannot click on the poster in JCV News to register. The link does not work from JCV News; you must go to the calendar.

Know the JCV Website
We encourage each JCV member to attend one of four sessions to learn what is available on the JCV website and in your personal JCV account. See poster below.
Where can you find information on JCV happenings and events?
Where can you change information in your JCV account?
How can you make donations or pay dues online?
….and more.
Session: 1 to 1.5 hours
Wednesday, June 1: on Zoom at 1:30pm
Thursday, June 2: live at the JCV at 10:30am (limited to 15)
RSVP to membership@thejcv.org
Back to top

JCV Policy as of March 9, 2022
For many months, the issues of the COVID-19 pandemic have been on all of our minds. We have not been able to do many of the things that were always available to us in the past and came to us as second nature. For some, we have missed out on many lifecycle events, while for others we have been socially distant from friends and activities.
Today, we are celebrating with the following announcement. At the March 9, 2022, JCV Board meeting, the Board voted to rescind all of the former protocols/precautionary measures related to COVID-19 that were in place at the JCV. Effective immediately, that means the following:
For those who are comfortable, masking will now be optional.
We will resume our tradition of having an Oneg Shabbat after Friday evening services, of course following appropriate hygiene related to food handling.
Under the guidance of our Religious Committee, our former customary Torah Service will resume with a Torah procession. Honors will resume in a traditional fashion with accommodations for those wishing an honor but not yet comfortable doing so at the bimah. All Shabbat Services will still be offered via Zoom.
We will no longer have a check-in station outside the JCV for those coming to worship, although as a congregation we highly recommend being fully vaccinated.
The sanctuary will be reconfigured to our former congregational seating, while still allowing for some socially distanced seating.
We will continue to have hand hygiene stations around the sanctuary and encourage the use of them as good hygiene practice.
While these actions seem appropriate today given the Center for Disease Control's recent recommendations for our geographic area, they may be subject to change, and as a congregation we will react accordingly. Moving forward, each of us should evaluate our own health status and make an individual determination about comfort levels with regard to our actions.
We are optimistic about the future and look forward to seeing all of our congregants at upcoming events at the Jewish Congregation of Venice. Let me also offer our sincere thanks for being patient, understanding the COVID-19 protocols, and for your membership.
Your Support is Relied on!
Join us in making the JCV thrive, and know that we are grateful for all donations. You may use our online donation form or call our office at 941-484-2022 and we will be happy to assist you. We appreciate gifts and donations to support our congregation's mission.
Support the JCV When You Shop on Amazon!
For every purchase made through our Amazon Smile link, Amazon will donate to the Jewish Congregation of Venice. This is at no additional charge to you. Remember, always start at smile.amazon.com and Amazon will donate 0.5% of the price of your eligible AmazonSmile purchases to the JCV.
Sunshine Fund
For only $5.00, support the JCV and save yourself a trip to the card shop! We have get well, condolence, simchas, and congratulation cards. For more information or questions, contact Vicki Solomon. Then all you have to do is send a check to the JCV or pay on ShulCloud on the Donate page; check Donations>Sunshine in the "Type" drop down box.
Rabbi's Day Off and Office Hours
Rabbi Shull's day off will be Tuesdays. Anyone interested in meeting Rabbi Shull in his office at the JCV, precluding any emergencies, is encouraged to give him a call and make an appointment during his regular office hours.
Sunday: The rabbi will be available to congregants.
Monday: 9:30am to 3:30pm
Tuesday: Off
Wednesday: 9:30am to 3:30pm
Thursday: 9:30am to 12:30pm
Friday: Available by phone 941-441-5713
Saturday: Shabbat, the rabbi will be available in an emergency.
If you would like to meet him in person at the JCV any other time Sunday through Friday, that can also be arranged by calling to make an appointment. Rabbi Shull can be reached at 941-441-5713. We continue to recommend that anyone entering the JCV building be fully vaccinated.
JCV Office Hours:
May 30 to June 27
Monday through Friday
9:00am to 1:00pm
Closed May 30 for Memorial Day.

Leadership
Board of Directors
President: Eli Rapaport - president@thejcv.org
1st Vice President: Steven Kleinglass
2nd Vice President: Mardi Skoegard
Secretary: Judy Haran
Treasurer: Meg Antine - treasurer@thejcv.org
Immediate Past President: Harvey Cohen
Parliamentarian: Annette Blum
Member at Large: Deborah Rosen
Member at Large: Barabra Katzenstein
Adult Learning: open
House and Grounds: Jeff Weisenberg
Membership: Nessa Kleinglass - membership@thejcv.org
Ritual: Susan Litwer
Ways and Means: Judy Rapaport - waysandmeans@thejcv.org
Sisterhood: Debbie Jefko


Submitting Articles to JCV News and Deadlines
Criteria for publication: JCV News welcomes JCV and member-related news for publication. Only articles or Zoom meeting information will be considered for publication. Articles that will not be considered: commercial, political, or solely promotional in nature; submitted to, accepted by, or published by another medium, printed or online; copyrighted materials without permission.

Submitting articles: Material submitted for publication should be presented as articles or Zoom meeting information in the text of the main body of your email. Graphics, posters, or pictures must be a separate .png file attachment. Avoid including attachments unless essential. Do not submit an event or article if it has not been confirmed by all parties involved.

Deadline for submissions: 5:00pm on the Wednesday prior to the Sunday of publication. All requests for publication should be sent to JCVNews@thejcv.org. This email address is to be used for submission of articles for consideration of publication only. Final versions of submissions are the only emails that will be accepted.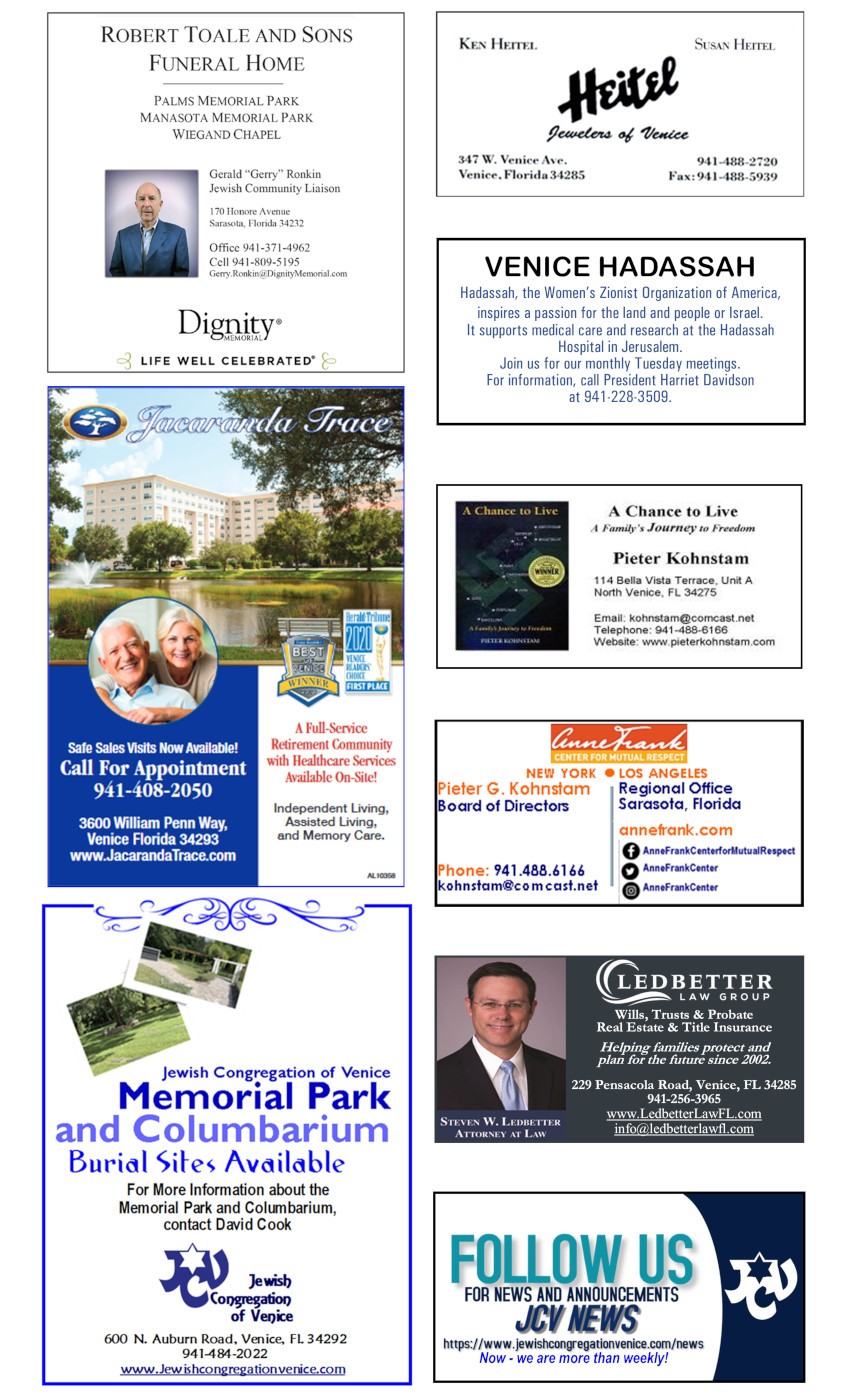 Fri, December 2 2022 8 Kislev 5783