Week of February 13, 2022
02/11/2022 05:26:35 PM
Feb11
| | |
| --- | --- |
| Author | |
| Date Added | |
| Automatically create summary | |
| Summary | |

Chai Lights - at the JCV
The JCV is committed to bringing people together; we are here to keep you informed and connected through a wide variety of programs. Browse our website and virtual or socially distanced events listed below to stay up to date on upcoming programs and services. Our top priority is the health and well-being of the JCV community; new policies are now in effect for the use of the JCV building. Zoom and in-person Shabbat services are now being held at the JCV. Watch for updates as guidelines are subject to modifications.
Members who have provided proof of vaccination are able to attend services, meetings, and events within the building, MASKS REQUIRED.
Every effort has been made to ensure the accuracy of event data contained in this issue; however, all events are subject to change. All times shown are in the Eastern Time Zone. To see last week (February 6), click HERE.

(continue scrolling or click on link for details on items listed here)
Shabbat Worship
Events, Programs, and Classes
Looking Ahead
JCV Community Announcements
In Case You Missed It
JCV News Sponsors
"Good Scents" - Please be considerate of others who may be allergic and refrain from using scented products when coming to services.

If any changes to our regularly scheduled services are warranted, we will let you know as soon as possible. We look forward to spending Shabbat together virtually and/or in person.
Friday
7:30pm: Shabbat Services
In person and on Zoom https://us02web.zoom.us/j/86717410874 (867 1741 0874, Passcode: jcv).
Weekly: February 18, 25; March 4,11.
Save this event to your calendar system.
Monday and Thursday - recurring classes
10:30am: Indoor T'ai Chi at the JCV
Duration: 1 hour. Recurring classes on Mondays and Thursdays. If you have any questions or concerns, please contact Barry Bye by email at barryvbye@gmail.com.
Tuesday (last Tuesday of the month)
11:00am: Cantor Marci's Kol Isha - women's discussion group
In person at the JCV or on Zoom.
https://us02web.zoom.us/j/81691518705 (816 9151 8705, Passcode: KOL)
Feb 22; Mar 29; Apr 26; May 31; Jun 28; Jul 26; Aug 30; Sep 27; Oct 25; Nov 29; Dec 27; Jan 31.
Save this event to your calendar system.
To all the WOMEN OF THE JCV
Kol Isha, which means the woman's voice, is our monthly discussion group. We began four years ago after a JCV Women's Retreat to discuss issues that affect us as Jewish women. Our topics have ranged from Spirituality to preparing for the death of a spouse, to learning about women of the bible, and so many things in between.
We would like to open our arms to include a larger group of women from the JCV. Please join us on the last Tuesday of the month at 11:00am. We will meet in person at the JCV as well as on Zoom. While we know Zoom has its challenges, we want to include everyone. We alternately hope to be fully in person. But at this time realize that is not possible for everybody.
Our topic for February 22 is Recurring Dreams/Nightmares. Who knows where this discussion will take us, but we would like you there!
-Marci Vitkus
Wednesday - NEW
4:30pm: Basic Judaism with Rabbi Shull
Weekly. Contact Rabbi Shull for details.
Thursday - NEW
2:00pm: Torah Study with Rabbi Shull
Weekly. Contact Rabbi Shull for details.
Monthly on the First Monday of the Month
10:30am: Sisterhood Book Club
In person at the JCV or on Zoom
https://us02web.zoom.us/j/89048668131 (890 4866 8131, Passcode: bookclub)
March 7; April 4; May 2; June 6; July 4; August 1; September 5; October 3; November 7; December 5.
Sunday, February 13
10:00am: Jewish Food Festival pickup
Duration: 3 hours.
The 2022 JCV Jewish Food Festival will offer pickup orders only-must have been pre-ordered by January 31.
Wednesday, February 23
7:00pm: Men's Club - Card game at the JCV
Sunday, February 27
7:00am Men's Club - Fishing Trip
Deep sea fishing trip on the charter boat Maimee, weather permitting. The boat leaves at 7:00am. Please be in Englewood by 6:30am. The cost is $180 per person, all inclusive (bait, tackle, water, soda, and tip). The only thing to bring is food. For more information or to sign up, contact Steve Weiss.
Sunday, March 6
2:00pm: Men's Club - LeBarge Sightseeing and Nature Cruise
Open to the congregation. Reserve by February 20, $32.00 per person. Note: correct address is 2 Marina Plaza, Sarasota. Contact Stephen Weiss.

Sunday, March 13 - NEW
12:30pm: BBQ Party to Celebrate the Board Service of Harvey Cohen, Maxine Arkin, and Sam Gurian
Luncheon begins immediately after the Congregational Meeting.

MENU - cost $18.00 per person
(d) 2 Hot Dogs - Quarter-pound Hebrew National or
(s) Salmon Burger or
(h) Hamburger - beef
- 1/2 Pickle - Half Sour on each plate
- Cole Slaw - side
- Potato Salad - side
- Condiments - (Relish, Mustard, etc.) - separate packages
- Cake - piece for dessert
- Soda - assorted
- Water - bottled
RESERVE EARLY! Registration Deadline: March 1, 2022. No changes can be made after the deadline.
Honoring Soon-To-Be Past President Harvey Cohen - NEW
Honor Harvey for his many years of service to the Jewish Congregation of Venice with a donation to the JCV.
Your donation will give the congregation a chance to say thank you and show appreciation to Harvey as he retires. The community looks forward to his warmth, compassion, laughter, and business acumen as he moves on to other roles at the JCV.
It is more important than ever to come together as a community to raise funds to support the synagogue. If you would like to make a general donation in Harvey's name, please click here or go to https://www.jewishcongregationvenice.com/payment.php
In recognition of your gift, a framed dedication poster with all donor names will be presented to Harvey. All donations will support JCV's general budget, which funds all our programs and activities. Thank you for your generosity!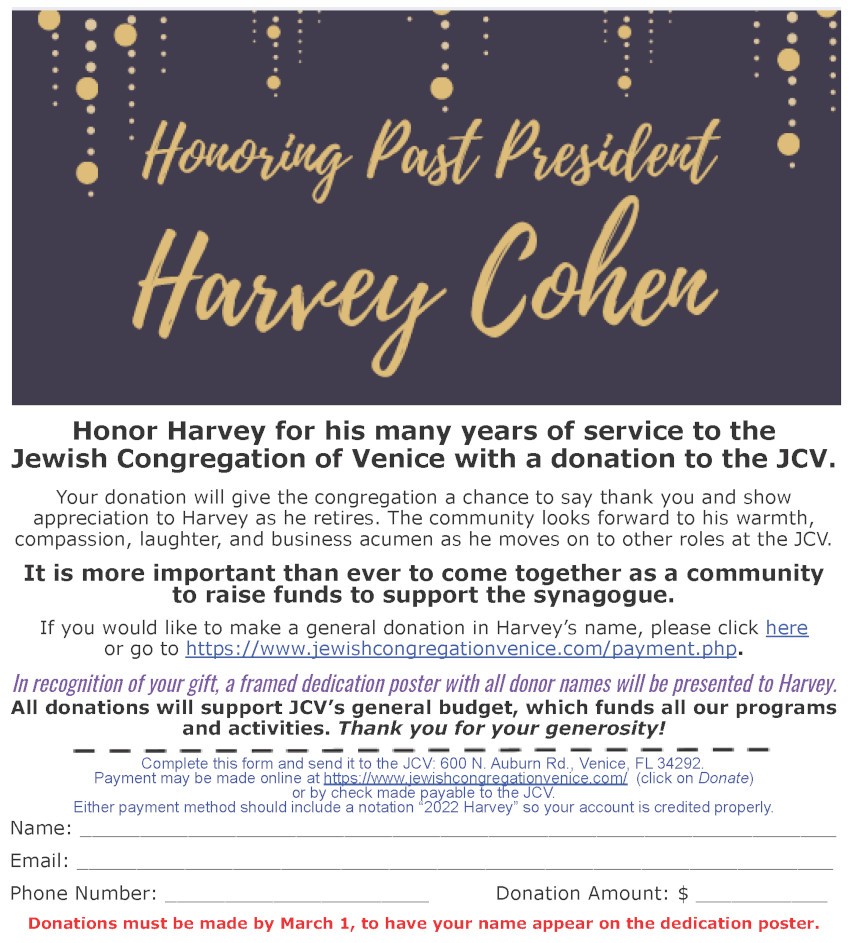 Message from Rabbi Ben Shull - Venice Interfaith Clergy Panel Discussion - NEW
Haverim,
On Monday, January 31, I had the honor of moderating a discussion among three local clergy regarding the topic of finding sources of hope in our religious traditions. This panel was the finale of the Venice Interfaith Community Association's (VICA) Winter Series 2022 on interfaith responses to the pandemic. I have enclosed a link to the VICA website http://veniceinterfaith.org/ which includes the video recording on the bottom left of the site (Turning Sadness into Beauty). Just click the video and I trust you will be uplifted by this conversation.
I would love to get your reactions to this program. Please email me or give me a call.
B'shalom,
Ben
JCV Policy Update as of January 12, 2022
The JCV is now open for activities and services under the following guidelines:
Anyone who enters the JCV is required to be fully vaccinated and show proof of vaccination. This includes congregants, guests, employees, visitors, vendors, and others.
While inside the JCV, everyone is required to properly wear a face mask at all times. All Friday evening services are to be both in person and via zoom.
The sanctuary will be set up for both regular seating and socially distanced seating for those who prefer that seating arrangement.
For now, there will not be any oneg shabbat offered after a service.
The JCV President has the authority to make specific decisions about the status of what may take place at the JCV, given the fluctuation of the COVID-19 environment and the needs of individualized issues at the JCV.
Committee meetings, education sessions, and other events are permitted, given the above guidelines.
As always, individuals should assume their own comfort level in participating at events at the JCV.
Congregants are asked to comply with the latest CDC guidelines should they be positive for COVID-19 and any variants prior to returning to any function at the JCV.
When there is an event at the JCV, the committee in charge will record who attended the event.
JCV PRESIDENT AND JCV BOARD

JCV Slate for Open Positions
At the January 2022 Congregational Meeting, the following slate was established:
President - Eli Rapaport
Second Vice President - Mardi Skoegard
Treasurer - Meg Antine
Member-at-large - Deborah Rosen
Adult Education - open
This slate will be voted on in March during the Annual Congregational Meeting, March 13, at 10:00am. Only nominations for Adult Education will be accepted at the annual meeting. A special thank you to the Nominating Committee: Joan Attenberg, Cynthia Greene, Barbara Katzenstein, Dave Metzger, Aaron Rosen, and Len Weiner.

If you have further questions, contact Nessa Kleinglass.

JCV Attendance Guidelines for Committee Chairs/Meeting Leaders
As committee chairs or meeting leaders, it is your responsibility to make sure the procedures below are followed:
Check the JCV official calendar on the website to confirm your proposed meeting is not in conflict with other scheduled meetings.

Reserve the room for your meeting. Send a note to president@thejcv.org and provide the following information:
Date, time, and duration of the meeting
Resources needed; location in the JCV where you plan to meet
Do you require Zoom?
Confirm that all attendees have had vaccinations.
Maintain a log of who attended. This will be used to notify attendees in the unfortunate event of someone who attended the meeting coming down with COVID-19.
We ask that you follow this policy to make every effort to ensure a safe, COVID-19 free JCV.
Thank you,
Harvey Cohen, President

Don't Forget to Send in Your Proof of Vaccination Information
The Board of Directors is taking precautions to protect our members as much as possible during the ongoing COVID-19 situation. While there is no perfect solution to COVID-19 challenges, the Board has focused on what they believe will be the most effective way to protect congregants. The JCV cannot ensure an absolute and secure situation during these uncertain and challenging times.
The JCV Board voted to have all congregants show proof of vaccination for future admittance to the building. We will enter this information into our database so you will only have to show it one time. The board thanks you for your cooperation in this procedure. If you have questions, feel free to contact any JCV Board member.
We will continue documenting proof of vaccination information so that as we reopen, we have current info. Two simple ways for congregants to send in proof of vaccination:
Send a photocopy or scanned copy of your COVID-19 vaccination card to the following email: vaxthejcv@gmail.com.
You can also make a copy and send it via the US Post Office to the JCV (600 N. Auburn Rd., Venice, FL 34292).
All copies will be shredded once registered in our database.

Sunshine Fund
For only $5.00, support the JCV and save yourself a trip to the card shop! We have get well, condolence, simchas, and congratulation cards. Call Vicki Solomon at 941-492-5043 or email her at sailingvicki@gmail.com. Then all you have to do is send a check to the JCV or pay on ShulCloud on the Donate page; check Donations>Sunshine in the "Type" drop down box.

Rabbi's Day Off and Office Hours
Rabbi Shull's day off will be Tuesdays until such time as the synagogue building will be open for regular programming. Anyone interested in meeting Rabbi Shull in his office at the JCV, precluding any emergencies, is encouraged to give him a call and make an appointment during his regular office hours.

Sunday: The rabbi will be available to congregants.
Monday: 9:30am to 3:30pm
Tuesday: Off
Wednesday: 9:30am to 3:30pm
Thursday: 9:30am to 12:30pm
Friday: Available by phone 941-441-5713
Saturday: Shabbat, the rabbi will be available in an emergency.
If you would like to meet him in person at the JCV any other time Sunday through Friday, that can also be arranged by calling to make an appointment. Rabbi Shull can be reached at 941-441-5713. Anyone entering the JCV building must be fully vaccinated.

Submitting Articles to JCV News and Deadlines
Criteria for publication: JCV News welcomes JCV and member-related news for publication. Only articles or Zoom meeting information will be considered for publication. Articles that will not be considered: commercial, political, or solely promotional in nature; submitted to, accepted by, or published by another medium, printed or online; copyrighted materials without permission.

Submitting articles: Material submitted for publication should be presented as articles or Zoom meeting information in the text of the main body of your email. Pictures must be a separate .png file attachment. Avoid including attachments unless essential. Do not submit an event or article if it has not been confirmed by all parties involved.

Deadline for submissions: 5:00pm on the Wednesday prior to the Sunday of publication. All requests for publication should be sent to JCVNews@thejcv.org. This email address is to be used for submission of articles for consideration of publication only. Final versions of submissions are the only emails that will be accepted.
Fri, July 1 2022 2 Tammuz 5782