Week of October 24, 2021
10/23/2021 07:28:16 AM
Oct23
| | |
| --- | --- |
| Author | |
| Date Added | |
| Automatically create summary | |
| Summary | |

Chai Lights - at the JCV
The JCV is committed to bringing people together; we are here to keep you informed and connected through a wide variety of programs. Browse our website and virtual or socially distanced events listed below to stay up to date on upcoming programs and services. Our top priority is the health and well-being of the JCV community. New policies are now in effect for the use of the JCV building. In-person services will be held in the JCV. Watch for updates as guidelines are subject to modifications.

Members who have provided proof of vaccination will be able to attend services, meetings, and events within the building.
Every effort has been made to ensure the accuracy of event data contained in this issue; however, all events are subject to change. All times shown are in the Eastern Time Zone. To see last week, (October 17), click HERE.
(continue scrolling or click on link for details on items listed here)

Shabbat Worship
Events, Programs, and Classes
Community Announcements
NEW - In Case You Missed It
Send Proof of Vaccination
Rabbi Hours
Submitting Articles to JCV News
JCV News Posters
JCV News Sponsors

Note: If a link below is not clickable, copy and paste it into your browser address bar.
Back to top
JCV Shabbat Services Schedule
Until further notice all Shabbat Services will be held in-person and on Zoom, 7:30pm on Fridays.

Note: If a link below is not clickable, copy and paste it into your browser address bar.
Back to top
Monday and Thursday - recurring classes - NEW
10:30am: Indoor T'ai Chi at the JCV, MASKS ON
Duration: 1 hour. Recurring classes on Mondays and Thursdays. If you have any questions or concerns, please contact Barry Bye by email at barryvbye@gmail.com.

Tuesday (every two weeks) - recurring Zoom discussion
11:30am: Cantor Marci's Kol Isha - women's discussion group
Zoom https://us02web.zoom.us/j/85852773780 (858 5277 3780)
Recurring Zoom discussion - every 2 weeks on Tuesdays, until December 21, 2021. Oct 26, Nov 9, Nov 23, Dec 7, Dec 21. Save event to your calendar system:
https://us02web.zoom.us/meeting/tZElcuuvqTgtEtQ28satU6CieL8Fppb93I-f/ics?icsToken=98tyKuGtpj4oHdOWtxGHRpwMGo_4a-3wtnZaj7dszkf2AjRmNCD_M84aFKJvEoGD
All women members of the JCV are welcome.

Monthly
10:00am: Sisterhood Book Club
Zoom https://us02web.zoom.us/j/84030659064 (840 3065 9064, Passcode: bookclub)
Recurring Zoom discussion - Monthly: Nov 1; Dec 6, 2021; Jan 3, 2022; Feb 7; Mar 7; Apr 4; May 2; Jun 6; Jul 4; Aug 1; Sep 5; Oct 3; Nov 7; Dec 5, 2022. Save event to your calendar system:
https://us02web.zoom.us/meeting/tZAtdOmuqzIqHNBsxtKAvJ7d7R-3fSpV25kq/ics?icsToken=98tyKuGsrjgqHNGcsB-DRpwIAojCc-7wmFhfgo1_jwfxKAFFSFTyYdAPYbRMAO6C


Sunday, October 24
11:00am: Adult Education - Saving the Iraqi Jewish Archives and Why It is Important Today.
Zoom https://us02web.zoom.us/j/81645809900?pwd=Ly9aSHNJZXZFRmlWWm5zMngyVHF2QT09
(816 4580 9900, Passcode: 851940)
Adult Education - Lifelong Learning at the Jewish Congregation of Venice hosts a discussion and documentary directed and produced by Carole Basri (American filmmaker, lawyer of Iraqi Jewish descent, and author), along with Adriana Davis (filmmaker, producer, writer, editor, voice actor, and coach): Saving the Iraqi Jewish Archives: A Journey of Identity.
Co-Directors Carole Basri and Adriana Davis will join us for a conversation on this feature length documentary tracing the discovery, restoration, and fate of over 20,000 artifacts. The Iraqi Jewish community has existed for 2,700 years and at its height numbered 160,000. Today, with less than five Jews remaining in Iraq, the Iraqi Jewish Archives may be the last, best hope to corroborate the community's existence and vibrancy. See poster below.

Wednesday, November 3 - NEW
11:00am: Jews in Foreign Lands: My Life with Soviet Jewry, British Jewry -The Fragility of Freedom
Zoom https://us02web.zoom.us/j/85119839239 (Passcode 345656)
With Rabbi Stuart Altshuler, the new rabbi of Temple Beth Sholom in Sarasota. From Rabbi Shull: My new colleague is a master educator who served as the rabbi of the Belsize Synagogue in London for the last decade. See poster below.

Sunday, November 14
10:00am: Men's Club Kickoff Meeting
New members always welcome. If you are curious, contact Steve Weiss at shaimer1234@yahoo.com. Please join the JCV Men's Club! See poster below.

Wednesday, November 17
12:30pm: Israel on the Map - RESCHEDULED
Zoom https://us02web.zoom.us/j/84357733626 (Passcode 007794)
Duration 90 minutes.
Lifelong Learning at the JCV. Hosted and presented by Rabbi Ben Shull. The history of Israel's relations with her Arab neighbors, including the Palestinians, is long and complex. In order to clarify and summarize this important story, we will use a set of maps to explain the past, describe the present, and anticipate the future. This session will provide a basic introduction to a topic that concerns us all. RSVP to rabbi@thejcv.org by Monday, November 15. See poster below.
Sunshine Fund - NEW
For only $5.00, support the JCV and save yourself a trip to the card shop! We have get well, condolence, simchas, and congratulation cards. Call Vicki Solomon at 941-492-5043 or email her at sailingvicki@gmail.com. Then all you have to do is send a check to the JCV or pay on ShulCloud on the Donate page; check Donations>Sunshine in the "Type" drop down box.

Mah Jongg Cards - NEW
2022 mah jongg cards are available to order. The price is $9.00 for a small card and $10.00 for a large card. Payment can be sent to, or dropped off at, the JCV. Orders will be taken until December 31, 2021.

Nominating Committee Announced
Congratulations to the 2021-2022 Nominating Committee: Nessa Kleinglass (Chair), Joan Attenberg, Cynthia Greene, Barbara Katzenstein, Dave Metzger, Aaron Rosen, and Len Weiner.
This well-rounded team with two board members, two past board members, a new member, a seasonal member, and three past nominating committee members, will bring forth a slate for the President, Second Vice-president, Treasurer, Member-at-large, and Adult-Education Chair.
We need your help; the nominating committee meetings are starting so contact us, soon. You can recommend yourself or another congregant for a board position by sending an email to membership@thejcv.org or call Nessa (941-451-4021), if you wish to chat, share information about your recommendation(s), or ask questions about what a position entails.

The JCV is Open
At the October 12th Board of Directors' meeting, the following criteria was approved for reopening the JCV.
All Friday evening worship services will resume in person in the sanctuary and via Zoom.
Guests will be allowed to attend in-person.
Congregants and guests must present their official vaccination document prior to entering the JCV building. If you have already provided your proof of vaccination, you do not need to do it again.
Everyone attending functions inside the JCV must appropriately wear effective masks which can be found on various websites.
Seating at all functions will be socially distanced.
During the Oneg, prepackaged food will be available at socially distanced tables in the social hall.
Other programs and events may be permitted inside the JCV with the permission from the JCV President or his designee. The above guideline must be followed for all events.
In all instances when there is a function at the JCV, a record of attendees will be kept.
The JCV Reopening Committee meets regularly and these guidelines are subject to modifications.
Congregants and guests planning to attend any JCV function should always evaluate their own health status and make their own determination about the appropriateness of their participation.
We are excited about the reopening of the JCV and look forward to seeing everyone.
The Board of Directors is taking precautions to protect our members as much as possible during the ongoing COVID-19 situation. While there is no perfect solution to COVID-19 challenges, the Board has focused on what they believe will be the most effective way to protect congregants. The JCV cannot ensure an absolute and secure situation during these uncertain and challenging times.
The JCV Board voted to have all congregants show proof of vaccination for future admittance to the building. We will enter this information into our database so you will only have to show it one time. The board thanks you for your cooperation in this new procedure. If you have questions, feel free to contact any JCV Board member.
We will continue documenting proof of vaccination information so that when we reopen, we have current info.
Two simple ways for congregants to send in proof of vaccination:
Send a photocopy or scanned copy of your COVID-19 vaccination card to the following email: vaxthejcv@gmail.com.
You can also make a copy and send it via the US Post Office to the JCV (600 N. Auburn Rd., Venice, FL 34292).
All copies will be shredded once registered in our database.
Rabbi Shull's day off will be Tuesdays until such time as the synagogue building will be open for regular programming. Anyone interested in meeting Rabbi Shull in his office at the JCV, precluding any emergencies, is encouraged to give him a call and make an appointment during his regular office hours.

Sunday: The rabbi will be available to congregants.
Monday: 9:30am to 3:30pm
Tuesday: off
Wednesday: 9:30am to 3:30pm
Thursday: 9:30am to 12:30pm
Friday: available by phone (941-441-5713)
Saturday: Shabbat, the rabbi will be available in an emergency.
If you would like to meet him in person at the JCV any other time Sunday through Friday, that can also be arranged by calling to make an appointment. Rabbi Shull can be reached at 941-441-5713. Anyone entering the JCV building is required to wear a face mask and be fully vaccinated.

Criteria for publication: JCV News welcomes JCV and member-related news for publication. Only articles or Zoom meeting information will be considered for publication. Articles that will not be considered: commercial, political, or solely promotional in nature; submitted to, accepted by, or published by another medium, printed or online; copyrighted materials without permission.
Submitting articles to JCVNews@thejcv.org: Material submitted for publication should be presented as articles or Zoom meeting information in the text of the main body of your email. Pictures must be a separate .png file attachment. Avoid including attachments unless essential. Do not submit an event or article if it has not been confirmed by all parties involved.
Deadline for submissions: 5:00pm on the Wednesday prior to the Sunday of publication. All requests for publication should be sent to JCVNews@thejcv.org. This email address is to be used for submission of articles for consideration of publication only. Final versions of submissions are the only emails that will be accepted.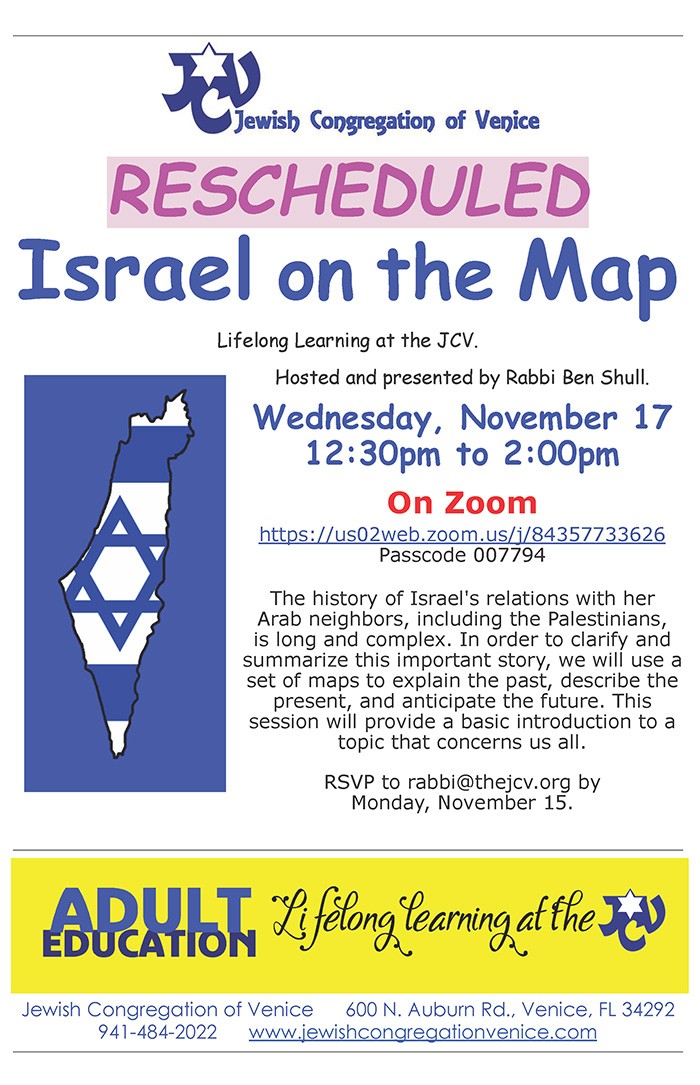 Sun, December 5 2021 1 Tevet 5782