Week of October 3, 2021
10/02/2021 08:56:31 AM
Oct2
| | |
| --- | --- |
| Author | |
| Date Added | |
| Automatically create summary | |
| Summary | |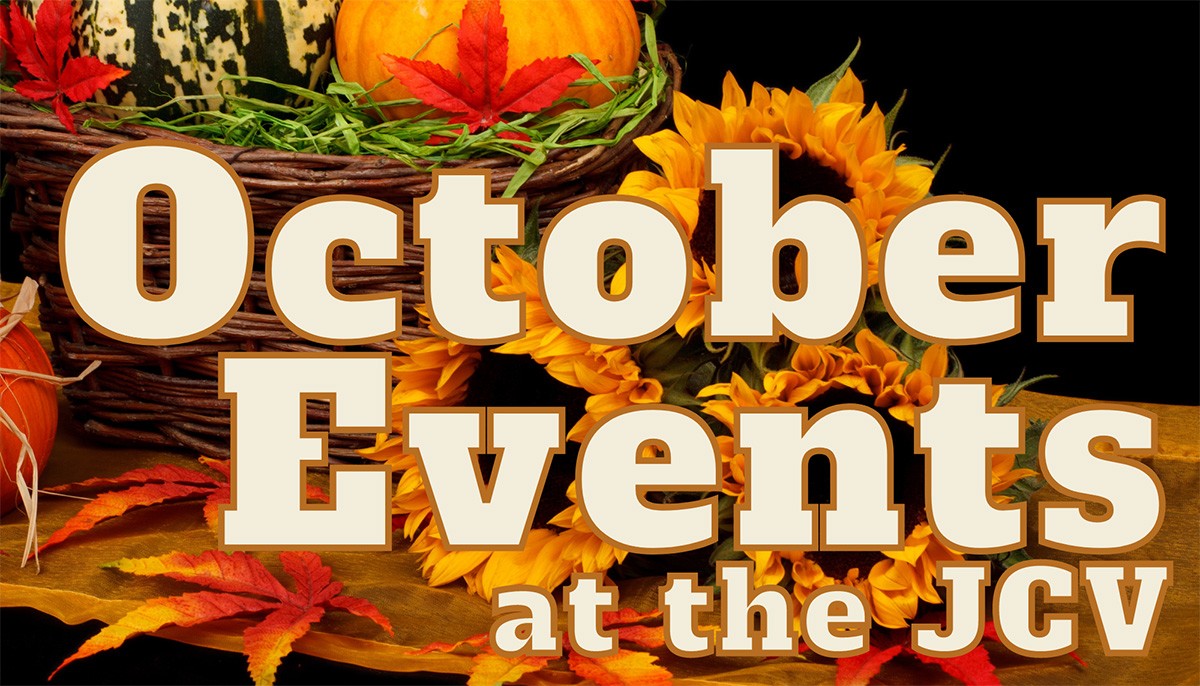 Chai Lights - at the JCV
The JCV is committed to bringing people together; we are here to keep you informed and connected through a wide variety of programs. Browse our website and virtual or socially distanced events listed below to stay up to date on upcoming programs and services. Our top priority is the health and well-being of the JCV community. Due to the rise in COVID-19 cases, new policies are now in effect for the use of the JCV building. At this time, no in-person services will be held in the JCV. Watch for updates in the weeks to come.
Eventually, members who have provided proof of vaccination will be able to attend services, meetings, and events within the building.
Every effort has been made to ensure the accuracy of event data contained in this issue; however, all events are subject to change. All times shown are in the Eastern Time Zone. To see last week, (September 26), click HERE.
(continue scrolling or click on link for details on items listed here)
Shabbat Worship
Events, Programs, and Classes
Updated Contact Information
Quilts for Refugees
Previous Broadcasts - Sukkot 5782
NEW - Chol HaMoed Sukkot at the JCV
Don't Forget to Send in Your Proof of Vaccination Information
Rabbi's Day Off and Office Hours
Submitting Articles to JCV News and Deadlines
JCV News Posters
JCV News Sponsors
Upcoming Services, Events, Programs, and Classes at the JCV

Note: If a link below is not clickable, copy and paste it into your browser address bar.
Back to top
JCV Shabbat Services Schedule
Until further notice all Shabbat Services will be held by Zoom, 7:30pm on Fridays.
Zoom https://us02web.zoom.us/j/84704926325 (847 0492 6325 Passcode: jcv)
Weekly: October 8, 15, 22. Save event to your calendar system:
https://us02web.zoom.us/meeting/tZAqd-2hrD0pGNEBShKQ4fk6TOz33wcsMIJC/ics?icsToken=98tyKuGsqTsuE9aTsxuCRpwIB4igLPPzpiFejY14viztKBEHZAigAs1YYeFoE8v9

Note: If a link below is not clickable, copy and paste it into your browser address bar.
Back to top
Monday and Thursday - recurring classes
10:30am: Indoor T'ai Chi at the JCV - SUSPENDED - UNTIL FURTHER NOTICE
If you have any questions or concerns, contact Barry Bye at barryvbye@gmail.com.

Tuesday (every two weeks) - recurring Zoom discussion
11:30am: Cantor Marci's Kol Isha - women's discussion group
Zoom https://us02web.zoom.us/j/85852773780 (858 5277 3780)
Recurring Zoom discussion - every 2 weeks on Tuesdays, until December 21, 2021. October 12 & 26, November 9 & 23, December 7 & 21. Save event to your calendar system:
https://us02web.zoom.us/meeting/tZElcuuvqTgtEtQ28satU6CieL8Fppb93I-f/ics?icsToken=98tyKuGtpj4oHdOWtxGHRpwMGo_4a-3wtnZaj7dszkf2AjRmNCD_M84aFKJvEoGD
All women members of the JCV are welcome.

Monthly
10:00am: Sisterhood Book Club
Zoom https://us02web.zoom.us/j/84030659064 (840 3065 9064, Passcode: bookclub)

Recurring Zoom discussion - Monthly: October 4; November 1; December 6, 2021; January 3, 2022; February 7; March 7; April 4; May 2; June 6; July 4; August 1; September 5; October 3; November 7; December 5. Save event to your calendar system:
https://us02web.zoom.us/meeting/tZAtdOmuqzIqHNBsxtKAvJ7d7R-3fSpV25kq/ics?icsToken=98tyKuGsrjgqHNGcsB-DRpwIAojCc-7wmFhfgo1_jwfxKAFFSFTyYdAPYbRMAO6C

Sunday, October 3, 2021
9:00am: High Holy Day Book Return and Our Annual Food Drive
Duration: 2 hours. Sponsored by the JCV Sisterhood.
We will meet you curbside for your safety and convenience.
Place your High Holy Day books back into the plastic bag(s).
Write your name on a piece of paper and place it in the book bag(s).
Place the bag(s) in your trunk.
Drive through the JCV portico.
Remain safely in your car.
Pop your trunk.
The book bag(s) will be removed for you. No need to leave your car!

Also, if you can, please place a bag(s) of non-perishable groceries in your trunk. These items will be donated to a local food bank. If you would prefer to make a donation by check, make it payable to All Faiths Food Bank. All donations are much appreciated by the less fortunate in our community and it has been a custom of the JCV to partake in this very important annual event.

It is a mitzvah to give to those of us who are in need. Everyone, even if you are not returning books, is encouraged to drop off a food donation. If you are unable to return the books at this time, or wish to make a food donation, please make arrangements with the JCV office at 941-484-2022. All books not returned by November 1, 2021, will be charged to your JCV account. See poster below.

NEW - Thursday, October 7
10:30am: Sisterhood Meeting
Zoom https://us02web.zoom.us/j/81704010795 ( 817 0401 0795, Passcode: sisterhood)

Join your friends from Sisterhood. Our own expert, Baila Miller, presents "The Golden Age of Jewish Vienna." Learn how Jewish patrons single-handedly promoted the expansion of culture in art, photography, music, and architecture in pre-WW II Vienna.


Sunday, October 10
10:00am: Congregational Meeting
Zoom https://us02web.zoom.us/j/85183945341 (851 8394 5341, Passcode: jcv). See poster below.

Sunday, October 24
11:00am: Adult Education - Saving the Iraqi Jewish Archives and Why It is Important Today.
Zoom https://us02web.zoom.us/j/81645809900?pwd=Ly9aSHNJZXZFRmlWWm5zMngyVHF2QT09
(816 4580 9900, Passcode: 851940)

Adult Education - Lifelong Learning at the Jewish Congregation of Venice hosts a discussion and documentary directed and produced by Carole Basri (American filmmaker, lawyer of Iraqi Jewish descent, and author), along with Adriana Davis (filmmaker, producer, writer, editor, voice actor, and coach): Saving the Iraqi Jewish Archives: A Journey of Identity.
Co-Directors Carole Basri and Adriana Davis will join us for a conversation on this feature length documentary tracing the discovery, restoration, and fate of over 20,000 artifacts. The Iraqi Jewish community has existed for 2,700 years and at its height numbered 160,000. Today, with less than five Jews remaining in Iraq, the Iraqi Jewish Archives may be the last, best hope to corroborate the community's existence and vibrancy. See poster below.
Cantor Marci Vitkus' contact information has changed. Her home phone number is no longer in use. When you need to contact Cantor Marci, please call her cell 941-228-6267 or you may also email her at cantor@thejcv.org.

JCV Crafty Mavens worked tirelessly to create a collection of handmade quilts to donate to Jewish Family and Children's Services (JFCS) for distribution to Afghanistan refugees, assisting in their relocation. Photos by Susan Kohnstam.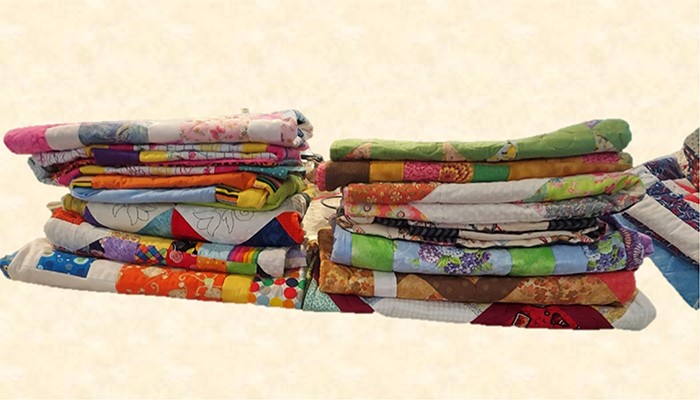 Monday, September 20 - Erev Sukkot
To watch, click on the link https://vimeo.com/610268611
Tuesday, September 28 - Shemini Atzeret/Simchat Torah
To watch, click on the link https://vimeo.com/617481506
On Friday, September 24, JCV congregants celebrated Chol HaMoed Sukkot with visitation to the
Sukkah, a festival, and drive-in Shabbat Services. Photo by Joan Attenberg.
The Board of Directors is taking precautions to protect our members as much as possible during the ongoing COVID-19 situation. While there is no perfect solution to COVID-19 challenges, the Board has focused on what they believe will be the most effective way to protect congregants. The JCV cannot ensure an absolute and secure situation during these uncertain and challenging times.
The JCV Board voted to have all congregants show proof of vaccination for future admittance to the building. We will enter this information into our database so you will only have to show it one time. The board thanks you for your cooperation in this new procedure. If you have questions, feel free to contact any JCV Board member.
We will continue documenting proof of vaccination information so that when we reopen, we have current info.
Two simple ways for congregants to send in proof of vaccination:
Send a photocopy or scanned copy of your COVID-19 vaccination card to the following email: vaxthejcv@gmail.com.
You can also make a copy and send it via the US Post Office to the JCV (600 N. Auburn Rd., Venice, FL 34292).
All copies will be shredded once registered in our database.
Rabbi Shull's day off will be Tuesdays until such time as the synagogue building will be open for regular programming. Anyone interested in meeting Rabbi Shull in his office at the JCV, precluding any emergencies, is encouraged to give him a call and make an appointment during his regular office hours.
Sunday: The rabbi will be available to congregants.
Monday: 9:30am to 3:30pm
Tuesday: off
Wednesday: 9:30am to 3:30pm
Thursday: 9:30am to 12:30pm
Friday: available by phone (941-441-5713)
Saturday: Shabbat, the rabbi will be available in an emergency.
If you would like to meet him in person at the JCV any other time Sunday through Friday, that can also be arranged by calling to make an appointment. Rabbi Shull can be reached at 941-441-5713. Anyone entering the JCV building is required to wear a face mask and be fully vaccinated.


Criteria for publication: JCV News welcomes JCV and member-related news for publication. Only articles or Zoom meeting information will be considered for publication. Articles that will not be considered: commercial, political, or solely promotional in nature; submitted to, accepted by, or published by another medium, printed or online; copyrighted materials without permission.

Submitting articles to JCVNews@thejcv.org: Material submitted for publication should be presented as articles or Zoom meeting information in the text of the main body of your email. Pictures must be a separate .png file attachment. Avoid including attachments unless essential. Do not submit an event or article if it has not been confirmed by all parties involved.

Deadline for submissions: 5:00pm on the Wednesday prior to the Sunday of publication. All requests for publication should be sent to JCVNews@thejcv.org. This email address is to be used for submission of articles for consideration of publication only. Final versions of submissions are the only emails that will be accepted.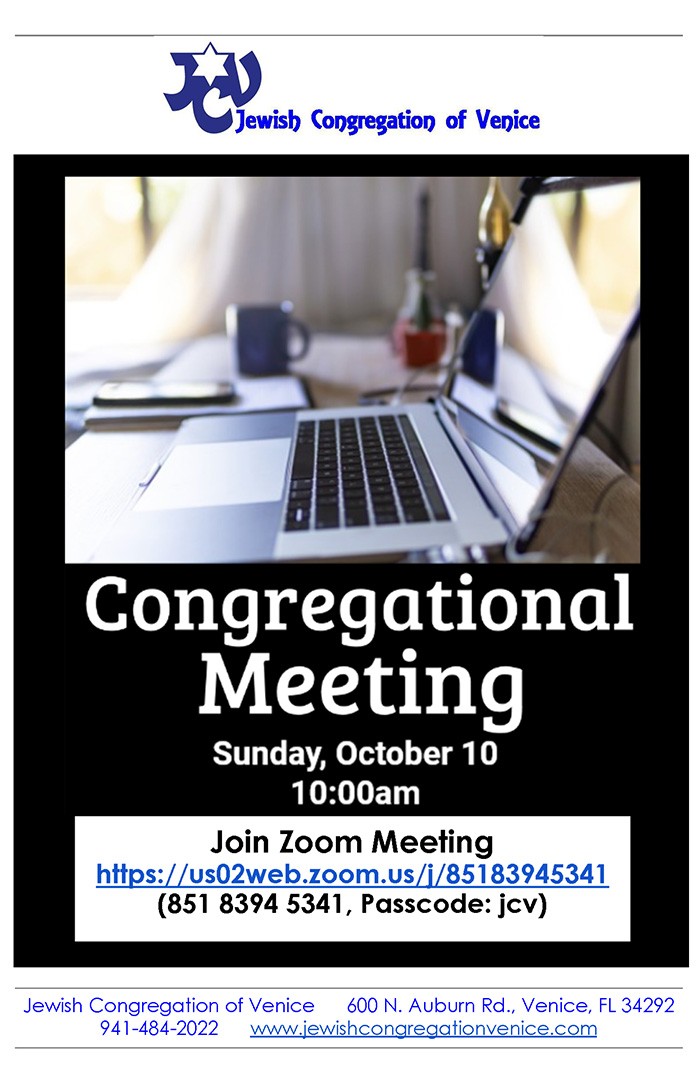 Sun, December 5 2021 1 Tevet 5782