Week of August 29, 2021
08/28/2021 07:37:30 PM
Aug28
| | |
| --- | --- |
| Author | |
| Date Added | |
| Automatically create summary | |
| Summary | |

Chai Lights - at the JCV
The JCV is committed to bringing people together; we are here to keep you informed and connected through a wide variety of programs. Browse our website and virtual or socially distanced events listed below to stay up to date on upcoming programs and services. Our top priority is the health and well-being of the JCV community. Due to the rise in COVID-19 cases, new policies are now in effect for the use of the JCV building. At this time, no in-person services will be held in the JCV. Watch for updates in the weeks to come.

Eventually, members who have provided proof of vaccination will be able to attend services, meetings, and events within the building.

Every effort has been made to ensure the accuracy of event data contained in this issue; however, all events are subject to change. All times shown are in the Eastern Time Zone. To see last week, (August 22), click HERE.
(continue scrolling or click on link for details on items listed here)
Shabbat Worship
5782/2021 HIGH HOLY DAYS at the JCV
Events, Programs, and Classes
NEW - Emergency Contact: Important Request
NEW - The Newest JCV Directory is Waiting for You!
NEW - JCV Receives Homeland Security Grant
Don't Forget to Send in Your Proof of Vaccination Information
You Can Pay Your Dues Online
Rabbi's Day Off and Office Hours
Submitting Articles to JCV News and Deadlines
JCV News Posters
JCV News Sponsors
Upcoming Services, Events, Programs, and Classes at the JCV

Shabbat Worship
Back to top

JCV Shabbat Services Schedule
Until further notice all Shabbat Services will be held by Zoom, 7:30pm on Fridays.
Zoom https://us02web.zoom.us/j/84704926325 ( 847 0492 6325 Passcode: jcv)
Weekly: September 3, 10, 17, 24; October 1, 8, 15, 22
Save event to your calendar system:
https://us02web.zoom.us/meeting/tZAqd-2hrD0pGNEBShKQ4fk6TOz33wcsMIJC/ics?icsToken=98tyKuGsqTsuE9aTsxuCRpwIB4igLPPzpiFejY14viztKBEHZAigAs1YYeFoE8v9
5782/2021 High Holy Days at the JCV - see poster below
Back to top
Monday, September 6 (Labor Day)
7:30pm: Rosh Hashanah Eve
Drive-in Services and Zoom https://us02web.zoom.us/j/87154361569 (871 5436 1569 Passcode: jcv)
Tuesday, September 7
10:00am: Rosh Hashanah Day
Zoom https://us02web.zoom.us/j/81327991664 (813 2799 1664 Passcode: jcv)
Wednesday, September 8
10:00am: Tashlich and Shofar Services
at Venice Beach
Wednesday, September 15
7:00pm: Yom Kippur Eve (Kol Nidre)
Zoom https://us02web.zoom.us/j/81689480072 (816 8948 0072 Passcode: jcv)
Thursday, September 16
10:00am: Yom Kippur Day
Zoom https://us02web.zoom.us/j/81633079683 (816 3307 9683 Passcode: jcv)
Thursday, September 16
5:30pm: Jonah, Yizkor, Neilah Services
Zoom https://us02web.zoom.us/j/86879495144 (868 7949 5144 Passcode: jcv)
Back to top
Monday and Thursday - recurring classes
10:30am: Indoor T'ai Chi at the JCV - SUSPENDED - UNTIL FURTHER NOTICE
If you have any questions or concerns, contact Barry Bye at barryvbye@gmail.com.

Tuesday (every two weeks) - recurring Zoom discussion
11:30am: Cantor Marci's Kol Isha - women's discussion group
Zoom https://us02web.zoom.us/j/85852773780 (858 5277 3780)
Recurring Zoom discussion - every 2 weeks on Tuesdays, until December 21, 2021.
September 14, September 28, October 12, October 26, November 9, November 23, December 7, December 21.
Save event to your calendar system:
https://us02web.zoom.us/meeting/tZElcuuvqTgtEtQ28satU6CieL8Fppb93I-f/ics?icsToken=98tyKuGtpj4oHdOWtxGHRpwMGo_4a-3wtnZaj7dszkf2AjRmNCD_M84aFKJvEoGD
All women members of the JCV are welcome.

Thursday - recurring Zoom course
2:00pm: Torah Study with Rabbi Shull
Zoom https://us02web.zoom.us/j/81587503042 (815 8750 3042, Passcode: jcv)
Reoccurring Zoom discussion every week on Thursdays, September 2, September 9, No class September 16 (Yom Kippur), September 23.
Save event to your calendar system:
https://us02web.zoom.us/meeting/tZUof-6trjgqHtY5B2llxbcpoXfQe5vV8NE1/ics?icsToken=98tyKuGpqzMtH9SWsB2FRpwcGYqgKO_ziHZfgrdkyT23DyxLYADmOdpEA7cqBu6I

Monthly
10:00am: Sisterhood Book Club
Zoom https://us02web.zoom.us/j/84030659064 (840 3065 9064, Passcode: bookclub)
Recurring Zoom discussion - Monthly: September 6, 2021; October 4, 2021; November 1, 2021; December 6, 2021; January 3, 2022; February 7, 2022; March 7, 2022; April 4, 2022; May 2, 2022; June 6, 2022; July 4, 2022; August 1, 2022; September 5, 2022; October 3, 2022; November 7, 2022; December 5, 2022.
Save event to your calendar system:
https://us02web.zoom.us/meeting/tZAtdOmuqzIqHNBsxtKAvJ7d7R-3fSpV25kq/ics?icsToken=98tyKuGsrjgqHNGcsB-DRpwIAojCc-7wmFhfgo1_jwfxKAFFSFTyYdAPYbRMAO6C

Tuesday, August 31
3:00pm: Crafty Mavens
Zoom https://us04web.zoom.us/j/73943483995?pwd=MjBTbGVVZkh4d21mRlRBOEdZdmpqQT09
(739 4348 3995, Passcode: crafty), everyone is welcome.

NEW - Sunday, September 5, 2021
9:00am: High Holy Days Prayer Books/Machzorim and 2021-2022 JCV Membership Directory Pickup
Duration 2 hours
We will meet you curbside for your safety and convenience.
Drive through the JCV portico.
Remain safely in your car.
Pop your trunk.
We will place in your trunk a sealed plastic bag containing the High Holy Days two volume set of machzorim (a gold-colored Rosh Hashanah book and silver-colored Yom Kippur book), along with the JCV Book of Remembrance, and the new edition of the JCV membership directory.
If you have not registered your proof of vaccination, you can show your card when you pick up your books.
The services will be more meaningful if you can follow along with the machzorim. If you have a problem with picking up the books, contact the JCV office at 941-484-2022 and we will try to accommodate you. Please note: Special care of the machzorim should be taken, as they will need to be returned at a later date. Books not returned in good condition will be subject to a replacement fee on your JCV account.

Are you interested in purchasing your own High Holy Days Prayer Books?? Log on to SMILE.AMAZON.COM, then search for Mishkan Hanefesh. You can purchase the two book set in hardcover, large print paperback, or download the Kindle version. See poster below.

Wednesday, September 8
10:00am: 2021 Tashlich and Shofar Service
JCV congregants and their families will gather at the Venice Beach Pavilion to cast our sins into the ocean on the second day of Rosh Hashanah. Rabbi Ben Shull and Cantor Marci Vitkus will lead prayer, song, and the blowing of the shofar. See poster below.

Sunday, September 12
10:00am: Memorial Service - JCV Memorial Park
It is customary in Jewish tradition to visit the graves of our loved ones during the period of the Yamim
Noraim/High Holy Days. In keeping with this time-honored practice, we will conduct a brief memorial service in the JCV Memorial Park. We invite everyone to participate in this service, even if you do not have relatives or friends buried in our Memorial Park. Masks are required.

We are blessed to have a beautiful and dignified Memorial Park at the JCV. We are certainly grateful to have dedicated volunteers who maintain it.
During our time at the Memorial Park, we will also take note of the special Holocaust Memorial located there and say a memorial prayer for those who perished.
Please join us for this time of reflection and appreciation. See poster below.

Thursday, September 16
Noon: Break the Fast Meals to Go - pickup
Duration: 60 minutes
$14.00 per person. Also available for sale is our famous JCV Challah, $5.00 per loaf. Preordered Break the Fast Meals will be available for pick up ONLY at the JCV (under the portico) from noon to 1:00pm on September 16. RESERVE EARLY. Preorder deadline – September 3, 2021. No changes may be made after the deadline. For more information, contact Judy Rapaport by phone 315-591-1050 or email at rapaport.judy@gmail.com. See poster below.

NEW - Sunday, October 10
10:00am: Congregational Meeting
Zoom https://us02web.zoom.us/j/85183945341 (851 8394 5341, Passcode: jcv). See poster below.
Back to top
Our new database enables us to keep a record of two people whom we could contact in case of emergency. Please take a few moments to either complete the information yourself or to contact Nessa who will help you enter it or do it for you.

To do this yourself:
Sign in to ShulCloud.
Click on "My Account."
Click on the "My Family" tile.
Click on "Edit your family."
At the top of the gray box click on "Emergency Information."
Complete the form.
Click on "Save Changes to Account" at the bottom.

Some tips about the gray box, after step 4.
"Adults" should include the adults in your household.
"Children" should only be those 18 and under.
"More Info" shares anniversary information.
"Neighborhood" tells us the development where you live.
Please complete this if it is blank!
Hmm, having trouble getting into ShulCloud? Send a message to membership@thejcv.org.
Back to top
The 5782 Membership Directory will be distributed to each household when they pick up a Siddur for the High Holy Days. Copies will be available later for those who are out of town. A special thank you to Beata who took time to set this up on our printer! Remember, the online version of the Membership Directory is always up to date!
Sign in to ShulCloud
Click on "My Account."
Scroll down to the "Member Directory" tile and click.
Click on the letter of the last name of the person you wish to find. Then click on the oval that says "Update View" or just scroll through the directory.
The printed JCV Membership Directory is for members only and should not be shared with anyone outside the JCV. The online directory can only be accessed by members when they sign in to ShulCloud. It is not available to the public.

If you have questions, please send an email to membership@thejcv.org.

Back to top
We are happy and proud to announce that the JCV grant application to Homeland Security has been approved at 100%. Since less than half of the grant applications nationwide were approved, the hard work and expertise of our grant committee has been shown to be successful.
The grant committee was comprised of co-chairs Nessa Kleinglass and Eli Rapaport, along with Joan Attenberg, Carole Metzger, Jack Rapaport, Paul Bond, Buck Isenberg, Bob Vodnoy, and Harvey Cohen.
The projects that were funded include installation of shatterproof coating on all exterior doors and windows, installation of an emergency exit behind the choir, increased security cameras on the exterior of the building, fencing around all exterior air conditioning units and utilities, and high intensity lighting for the parking area. The total dollar amount funded was nearly $63,000.
Back to top

The Board of Directors is taking precautions to protect our members as much as possible during the increase of COVID-19 cases. While there is no perfect solution to COVID-19 challenges, the Board has focused on what they believe will be the most effective way to protect congregants. The JCV cannot ensure an absolute and secure situation during these uncertain and challenging times.
The JCV Board voted to have all congregants show proof of vaccination for future admittance to the building. We will enter this information into our database so you will only have to show it one time. The board thanks you for your cooperation in this new procedure. If you have questions, feel free to contact any JCV Board member.
We will continue documenting proof of vaccination information so when we reopen we have current info.
Two simple ways for congregants to send in proof of vaccination:
Send a photocopy or scanned copy of your COVID-19 vaccination card to the following email: vaxthejcv@gmail.com.
You can also make a copy and send it via the US Post Office to the JCV (600 N. Auburn Rd., Venice, FL 34292).
All copies will be shredded once registered in our database.
Back to top
JCV membership dues for the 2021-2022 season are payable beginning July 1, 2021. If you like, you can easily pay your dues online. Follow the instructions below:
Go to the JCV website at jewishcongregationvenice.com. Sign in to your account:
Select "Log In."
From the top black row, select "My Account" from the drop down selection.
Scroll down to the section titled "Financials": Click on "My Statements."
You should see your statement:
Scroll to the end of the statement. Click on "Submit a Payment."
This will bring you to the "Online Payments" page. Follow the prompts.
If you have questions, contact Beata (941-484-2022) or Nessa (941-451-4021).
Back to top
Rabbi Shull's day off will be Tuesdays until such time as the synagogue building will be open for regular programming. Anyone interested in meeting Rabbi Shull in his office at the JCV, precluding any emergencies, is encouraged to give him a call and make an appointment during his regular office hours. REVISED SCHEDULE
Wednesday 9:30am to 2:30pm
Thursday 10:00am to noon
Friday 9:00am to noon
If you would like to meet him in person at the JCV any other time Sunday through Friday, that can also be arranged by calling to make an appointment. Rabbi Shull can be reached at 941-441-5713. Anyone entering the JCV building is required to wear a face mask and be fully vaccinated.

Back to top
Criteria for publication: JCV News welcomes JCV and member-related news for publication. Only articles or Zoom meeting information will be considered for publication. Articles that will not be considered: commercial, political, or solely promotional in nature; submitted to, accepted by, or published by another medium, printed or online; copyrighted materials without permission.
Submitting articles to JCVNews@thejcv.org: Material submitted for publication should be presented as articles or Zoom meeting information in the text of the main body of your email. Pictures must be a separate .png file attachment. Avoid including attachments unless essential. Do not submit an event or article if it has not been confirmed by all parties involved.
Deadline for submissions: 5:00pm on the Wednesday prior to the Sunday of publication. All requests for publication should be sent to JCVNews@thejcv.org. This email address is to be used for submission of articles for consideration of publication only. Final versions of submissions are the only emails that will be accepted.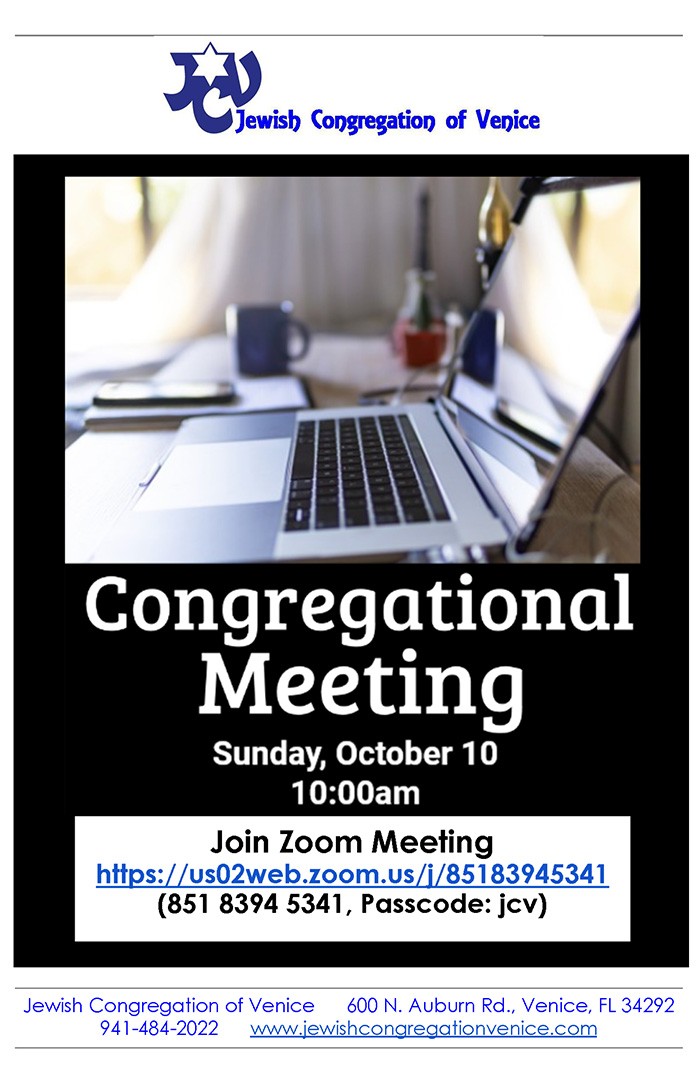 JCV News Sponsors

Fri, January 28 2022 26 Shevat 5782