Week of July 18, 2021
07/17/2021 01:59:01 PM
Jul17
| | |
| --- | --- |
| Author | |
| Date Added | |
| Automatically create summary | |
| Summary | |
Chai Lights - Innovative and Predominantly Virtual JCV
The JCV is committed to bringing people together; we are here to keep you informed and connected through a wide variety of programs. Browse our website calendar and virtual or socially distanced events listed below to stay up to date on upcoming programs and services. At this time, events taking place inside the JCV are open to fully vaccinated JCV members only. Sorry, no guests.
Every effort has been made to ensure the accuracy of event data contained in this issue; however, all events are subject to change. All times shown are in the Eastern Time Zone. To see last week, (July 11), click HERE.
(continue scrolling or click on link for details on items listed here)
Shabbat Worship
Events, Programs, and Classes
NEW - Greetings from JCV Treasurer, Sam Gurian
Thank you to Each of our Sponsors
You Can Pay Your Dues Online
Do You Miss the Printed Version of the JCV Membership Directory?
Become a Member of the New JCV Men's Club!
Thank you for Your Continued Support of the JCV
Rabbi's Day Off and Office Hours
Submitting Articles to JCV News and Deadlines
JCV News Posters
JCV News Sponsors
Upcoming Services, Events, Programs, and Classes at the JCV
July 2021 JCV Shabbat Services Schedule
All Shabbat Services now held indoors at the JCV, 7:30pm on Fridays. See poster below.
Only fully vaccinated JCV members may attend in-person sanctuary services.
Masking and social distancing will be optional for all attendees.
No name tags are available; should you wish to wear a kippah or tallit, please bring your own.
There will be an Oneg with prepackaged food and bottled water.
RSVP for Shabbat Services. A weekly notification will be sent prior to services requesting your reply.
If you plan to attend Shabbat Services on Friday, July 23, RSVP required by replying to https://www.surveymonkey.com/r/NQ9TVST
Also available on Zoom:
https://us02web.zoom.us/j/83056445590 (830 5644 5590, Passcode: jcv)
Weekly: Friday, July 23, July 30
Download and import the following iCalendar (.ics) files to your calendar system.
https://us02web.zoom.us/meeting/tZctcu-sqj4vE9RPbS-Nvktw1Md0g5TA0oBM/ics?icsToken=98tyKuGrrj4sHtCQtRCHRpwqAo_4M-jwiCVYj_pvrB3WTg5FaRfhZ89GYrUqJPmA
Back to top

Monday and Thursday - recurring classes
10:30am: Indoor T'ai Chi at the JCV
Duration: 1 hour. Recurring classes on Mondays and Thursdays. If you have any questions or concerns, contact Barry Bye at barryvbye@gmail.com.

Tuesday (every two weeks) - recurring Zoom discussion
11:30am: Cantor Marci's Kol Isha - women's discussion group
Zoom https://us02web.zoom.us/j/85852773780 (858 5277 3780)
Recurring Zoom discussion - every 2 weeks on Tuesdays, until December 21, 2021.
July 20, August 3, August 17, August 31, September 14, September 28, October 12, October 26, November 9, November 23, December 7, December 21. Save event to your calendar system:
https://us02web.zoom.us/meeting/tZElcuuvqTgtEtQ28satU6CieL8Fppb93I-f/ics?icsToken=98tyKuGtpj4oHdOWtxGHRpwMGo_4a-3wtnZaj7dszkf2AjRmNCD_M84aFKJvEoGD
All women members of the JCV are welcome.
We are now using A Year of Sacred Moments by Hanna Perlberger as our guide to interesting and educational conversations. Please read the introduction and start with Chapter 38.
Here is a link to buy the book in paperback or kindle.
https://smile.amazon.com/gp/product/150438556X?pf_rd_r=B6KN4W644JMJY1V0CX0Z&pf_rd_p=5ae2c7f8-e0c6-4f35-9071-dc3240e894a8&pd_rd_r=042e0242-f0af-4436-bb44-2c89dd32cd9b&pd_rd_w=4uqNV&pd_rd_wg=W7Mb7&ref_=pd_gw_unk

Thursday - recurring Zoom course
2:00pm: Torah Study with Rabbi Shull
Zoom https://us02web.zoom.us/j/81587503042 (815 8750 3042, Passcode: jcv)
Reoccurring Zoom discussion every week on Thursday, July 22, July 29, August 5, August 12, August 19, August 26, September 2, September 9, September 16, September 23. Save event to your calendar system:
https://us02web.zoom.us/meeting/tZUof-6trjgqHtY5B2llxbcpoXfQe5vV8NE1/ics?icsToken=98tyKuGpqzMtH9SWsB2FRpwcGYqgKO_ziHZfgrdkyT23DyxLYADmOdpEA7cqBu6I

Monthly
10:00am: Sisterhood Book Club
Zoom https://us02web.zoom.us/j/84030659064 (840 3065 9064, Passcode: bookclub)
Recurring Zoom discussion - Monthly: August 2, 2021; September 6, 2021; October 4, 2021; November 1, 2021; December 6, 2021; January 3, 2022; February 7, 2022; March 7, 2022; April 4, 2022; May 2, 2022; June 6, 2022; July 4, 2022; August 1, 2022; September 5, 2022; October 3, 2022; November 7, 2022; December 5, 2022. Save event to your calendar system:
https://us02web.zoom.us/meeting/tZAtdOmuqzIqHNBsxtKAvJ7d7R-3fSpV25kq/ics?icsToken=98tyKuGsrjgqHNGcsB-DRpwIAojCc-7wmFhfgo1_jwfxKAFFSFTyYdAPYbRMAO6C
Looking forward to another year invested in the JCV.
Yay, the JCV is reopening!!
In-person Activities are Resuming!
High Holy Days are Coming!
Fully vaccinated members in good standing are welcome to attend in-person Shabbat Services!
Zoom services are still available for those who are unable to attend!
A big thank you to all our members who have already paid their dues!
To be a member in good standing, your membership dues should be paid in full by July 1, 2021. Members who have not met their financial commitments by September 1, 2021, shall be considered NOT in good standing. Need special arrangements? Contact the JCV Treasurer, Sam Gurian, at treasurer@thejcv.org.
Note that full members are entitled to utilize all JCV services, including High Holy Days services. Seasonal members are entitled to utilize all JCV services, except High Holy Days services.
JCV membership dues for the 2021/2022 fiscal year are payable through your account on www.JewishCongregationofVenice.org or by check at the JCV office. See poster below.
Thank you to each of our sponsors who support the JCV News through their generous donation. We appreciate your dedication and are proud to have you as part of our JCV family.
A Chance to Live; Pieter Kohnstam
Heitel Jewelers of Venice
Jacaranda Trace
JCV Memorial Park and Columbarium
Venice Hadassah
See Poster below.
JCV membership dues for the 2021-2022 season are payable beginning July 1, 2021. If you like, you can easily pay your dues online.
Follow the instructions below:
Go to the JCV website at jewishcongregationvenice.com .
Sign in to your account:
Select "Log In."
From the top black row, select "My Account" from the drop down selection.
Scroll down to the section titled "Financials":
Click on "My Statements."
You should see your statement:
Scroll to the end of the statement.
Click on "Submit a Payment."
This will bring you to the "Online Payments" page.
Follow the prompts.

If you have questions, contact Beata (941-484-2022) or Nessa (941-451-4021).
You can print it from home on your personal printer!
Note that we are challenged to upload pictures and are awaiting the fix from ShulCloud. However, the Membership Directory information is always current and up to date. The directory is only available to active members and should not be shared with non-JCV members. This directory is a benefit of being a JCV Member. Kindly respect our members' privacy.

To Print the Directory:
Go to jewishcongregationvenice.com and sign in to your account. You must sign in, in order to access the directory.

There are two ways to find the directory.
1. After signing in, click on your name and then "My Account" in the drop down box.
2. Scroll down to the "Membership Directory" tile and click.
OR
1. After signing in to your account, click on "Membership" in the navigation bar.
2. In the drop down box, click on "Membership Directory."

Once you are in the directory:
You will see a gray box with the alphabet and additional buttons below that.
Click on the "Print" button.
The destination should show your personal printer.
You will want to scroll to "More settings" to change the number of pages per sheet.
Suggestion: two pages per sheet unless you have very good eyesight, then four pages per sheet.
Based on your printer: you can select one-sided, two-sided, and color or black and white.

If you have questions, contact Nessa (941-451-4021).
The Men's Club will foster a spirit of friendship within the group, and new members are always welcome.
Steve Weiss has offered to chair this newly reorganized group. We are looking for your help to plan events and offer suggestions. Steve has many ideas for future activities, and needs assistance to make them successful.
Poker card game day
Dining out (supporting the Men's Club and the JCV)
Afternoon cruises (sightseeing, nature, food, drinks, music, and dancing)
Assisting with:
Friday night services
Setting up for Sukkot
Cooking for congregants in need of a meal
Religious history excursions
Fun and games
50/50 raffles
Hosting and cooking for a JCV picnic
Many more that we can plan!
Now we need interested congregants to join.
If you are curious, contact Steve Weiss at shaimer1234@yahoo.com
Join the JCV Men's Club! See poster below.
We have survived.
We have flourished.
So many have stepped up in this year of the pandemic.
We found new ways to do programming and invested in different uses of technology.
Now that we have returned to in-person services and events, we will bring with us the lessons we learned and our new ways of thinking.
But most of all, we will appreciate our ability to gather and connect in person.

Great things are planned for 2021 - 2022, including our 40th anniversary.
We encourage you to join us again, as a member of the JCV.

- The Membership Committee
See poster below.
Rabbi Shull's day off will be Sundays until such time as the synagogue building will be open for regular programming. Anyone interested in meeting Rabbi Shull in his office at the JCV, precluding any emergencies, is encouraged to give him a call and make an appointment during his regular office hours.

Tuesday 9:30am to 2:30pm
Wednesday 9:30am to 2:30pm
Thursday 10:00am to noon
Friday 9:00am to noon

If you would like to meet him in person at the JCV any other time Monday through Friday, that can also be arranged by calling to make an appointment. Rabbi Shull can be reached at 941-441-5713.
Criteria for publication: JCV News welcomes JCV and member-related news for publication. Only articles or Zoom meeting information will be considered for publication. Articles that will not be considered: commercial or solely promotional in nature; submitted to, accepted by, or published by another medium, printed or online; copyrighted materials without permission.
Submitting articles to JCVNews@thejcv.org: Material submitted for publication should be presented as articles or Zoom meeting information in the text of the main body of your email. Pictures must be a separate .png file attachment. Avoid including attachments unless essential. Do not submit an event or article if it has not been confirmed by all parties involved.
Deadline for submissions: 5:00pm on the Wednesday prior to the Sunday of publication. All requests for publication should be sent to JCVNews@thejcv.org. This email address is to be used for submission of articles for consideration of publication only. Final versions of submissions are the only emails that will be accepted.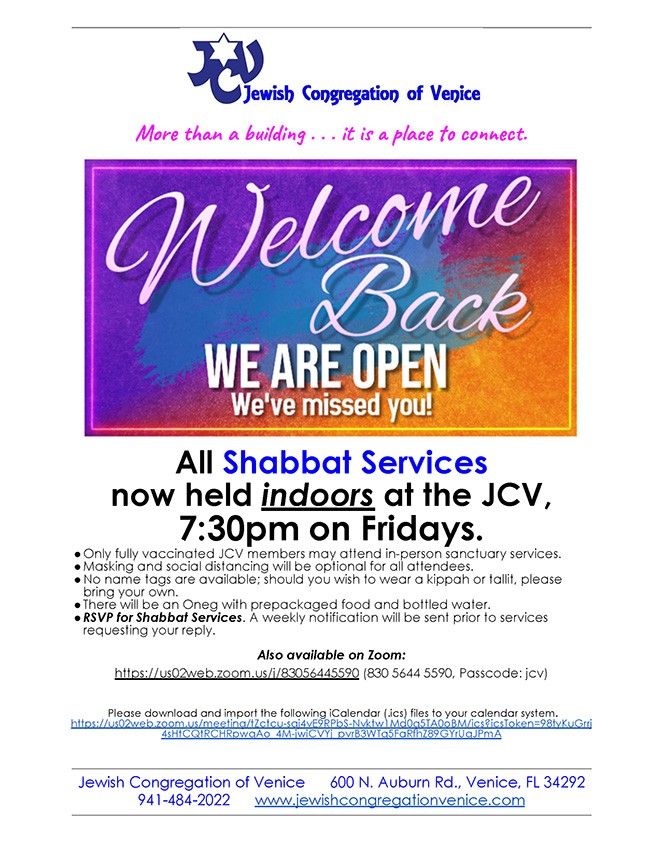 Thu, September 29 2022 4 Tishrei 5783