Crafty Mavens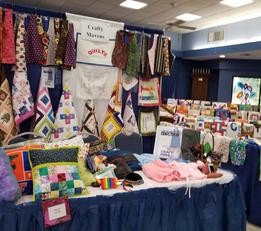 Talking & Quilting
We love to quilt or just sit around talking about knitting, sewing, or quilting. We come together on the second and fourth Monday of every month and welcome anyone interested in any of the needle arts.
For our Jewish Congregation of Venice, we made an Ark cover, curtains, piano and organ covers, as well as kippots for our congregation. For the community, we made countless quilts for hospice and Head Start as well as over 100 knitted caps for newborn infants.
Our members have taught others a variety of techniques including knitting, crocheting, and quilting. We spearheaded a drive to help the women of Tzfat, Israel, develop sewing skills by sending much-needed supplies. We also sent quilts to the IDF during the Gaza uprising.
"Show and Kvell" is an important and frequent part of our meetings. We always welcome new members who share our interests in creative crafting!
Sat, January 28 2023 6 Shevat 5783